In January, Martin hosted a webinar about the December releases of our visual scheduling extensions Visual Advanced Production Scheduler, Visual Production Scheduler, and Visual Jobs Scheduler for Microsoft Dynamics 365 Business Central. With this blog, I'd like to give a summary of the webinar and briefly introduce the new features for all those who couldn't attend.
I also include the recording of the webinar and provide links to the respective minute of the presented webinar and release highlights.
Streamlining the product lifecycle [min 7:45]
After some introductory words, Martin spoke about our product lifecycle policy and explained that we align our release policy with Microsoft's modern lifecycle. This means that we no longer guarantee the backward compatibility of every new feature we build.
We also (eventually) stop supporting NAV (and Business Central) versions that Microsoft doesn't support anymore. However, we offer extended support for business-critical uses of our products.
For more details on this, we highly recommend you to read this blog.
Release overview [min 13:01]
Before diving into the respective extension, Martin showed an overview of what new feature was added to which extension, giving a short explanation of each function.
As he pointed out, the focus of the webinar was on the tools for production scheduling, but nevertheless, the new VJS features were also (briefly) introduced.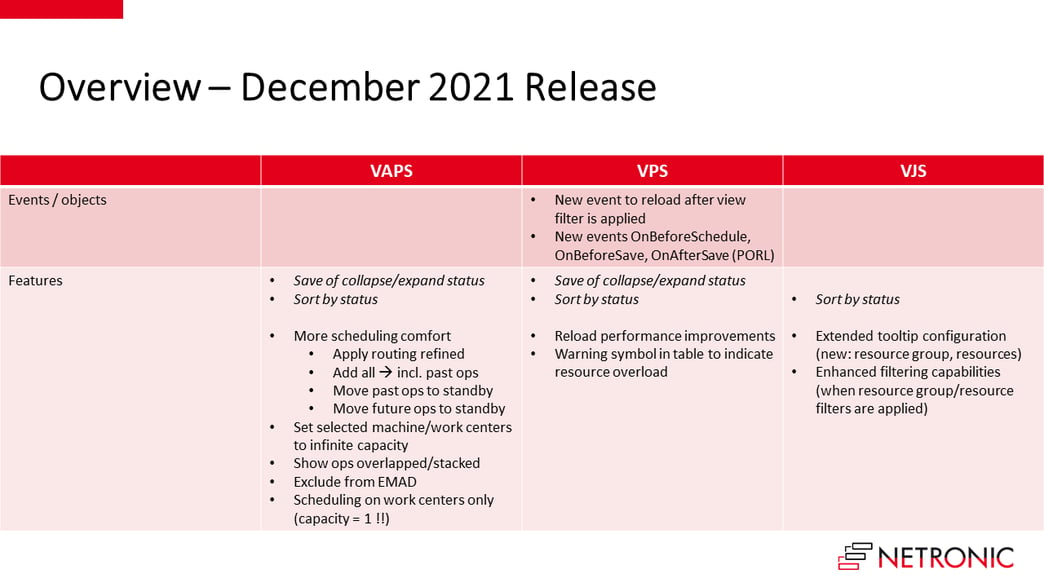 Visual Jobs Scheduler [min 21:16]
These new functions are:
sort by status in the jobs view by a new context menu. This functionality was also added to VPS and VAPS

customize tooltips also for resource groups, resources, and resource summaries

enhanced filtering capabilities (when resource group/resource filters are applied)
Please find detailed information in the release blog.
Visual Production Scheduler [min 23:00]
As always in our webinars, also the VPS demo was done by means of small matching use cases which illustrated
that we have enhanced the sorting functionality by the "sort by status" option which can be applied in the production order view by a new context menu on the production order status line [23:12]

that the VPS now remembers the last collapsed/expanded states of table elements and their curves and how this will save the users a lot of clicks (also implemented for the VAPS [25:38]

how you can now even more easily detect bottlenecks in your schedule by a newly implemented extra column showing warning symbols in case of a resource overload [27:29]
Please read the release blog for more detailed information on all new functions.
Visual Advanced Production Scheduler [min 32:15]
The webinar went on with the VAPS demo, the use cases first focussing on the functions for increasing the scheduling comfort:
To accelerate the planning - so that it starts as soon as possible - we refined the "apply routing" function and affected operations are now always positioned at least at the current work date, or later if requested by a linked predecessor [32:49].

For quickly "cleaning up" the schedule you can now move unhandled past or future operations to standby in one go, from where you can then reschedule them by "add all". This saves you the effort of manually moving and rescheduling every single operation [35:17].

The enhanced "add-all" function now ensures that also operations on a standby resource with a start date before the scheduling start will be added to the schedule and will be placed AFTER the scheduling start, regardless of their position before. This of course also saves you from manually adding "old" operations to the plan one by one, if needed [39:04].
Other new functions were introduced in the further course of the webinar and showed
how you can better schedule the non-bottleneck areas with infinite capacity (and the impact of enabling this function) [42:50]

how overlapping operations (i.e. overloads) can be displayed in one row (if on this certain resource overloads don't matter) or stacked [45:01]

how items (or even complete item categories) that don't influence the EMAD because they can easily and quickly be replenished and therefore won't become a bottleneck can be excluded from the EMAD calculation [46:40]

how work centers are treated in the same way as machine centers, meaning with a capacity of one, and how this impacts scheduling on work centers without machine centers [50:15]
Of course, you can read about all the functions in detail in the release blog.
Further information