In the manufacturing industry, it is normal to have machines break down. Therefore, companies invest in preventive maintenance. The same would be the case if you were working with actual people, who either get sick or go on planned holiday. Sometimes these breakdowns can be foreseen and planned for, but in some cases it cannot. During these unforeseen scenarios, in most cases companies would need to quickly come up with a plan B as to how their new plan would look like.
From an ERP perspective, this would cause a downtime to your resources, leaving you no choice but to either reschedule your operation earlier or later or if possible, reassign it to another resource. This blog post deals with exactly that scenario, and shows you to get to that plan B in a both effective and efficient manner.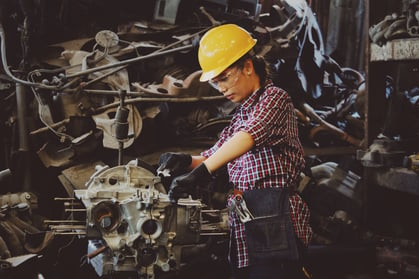 I understand that this kind of rescheduling is not the easiest task.
You need to take into consideration multiple elements; for example, the current workload of a resource, whether a capable alternative resource is available and the due date of the production order.
Even worse: just imagine the unexpected machine breakdown just impacts one production order that was scheduled to be processed on that machine. Now you have to reschedule this one production order. Most likely, this change to one production order does not simply impact that one production order, but it has a lot of spill-over effects on other production orders and other machines.
Are you able to see all these effects easily from your Microsoft Dynamics 365 Business Central tables?
If not, here is how to come to a plan B:
The Visual Advanced Production Scheduler (VAPS) is the first finite capacity scheduler fully integrated with Microsoft Business Central 365. It was built to help solve some of the pertaining issues on the standard manufacturing module of Business Central, that we have seen throughout the year.
One specific issue I would want to expound on, is the issue of machine breakdowns and rescheduling. This was actually something that we discussed in a webinar we had back in September of this year. You can check out the recording of that webinar below (minute 44).
Do you like what you have seen? Then get your free trial version of the VAPS now.
Hey, and if you are not the person who likes watching recorded webinars, just continue reading.
Here is - in written and with screenshots - how you can achieve that plan B.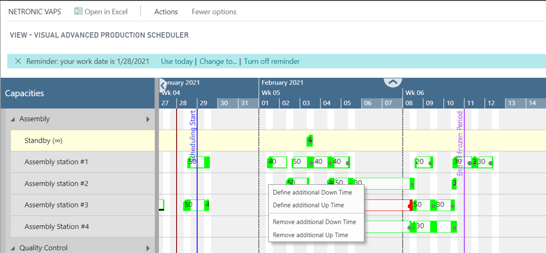 Schedule a down time on the machine with a breakdown. You can do this by right clicking on an on an empty space on the schedule of that specific machine center.
After pressing right click, you should select "define additional down time" and then on the context menu, fill up a specific date and time, when your resource will not be available. You can use the same context menu to either remove the down time that you defined or if you would need to define uptime instead.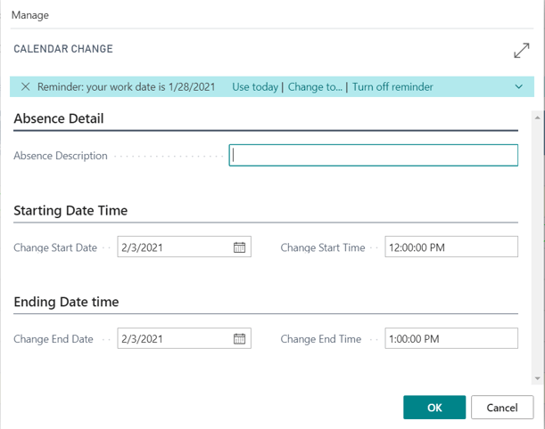 Defining a down time or absence, ties into the schedule of your machine center, specifically the load capacity table. You can either make the change via the VAPS context menu or direct on the machine center's card.
After hitting "OK", you will notice a red visualization of this down time that you defined. See the large screenshot below.
Although you can drag & drop operations over the down time, they will not take any capacity from your resource, simply because it won't have any during that time, thus stretching the operation longer.
If you had an operation already assigned during the time that you created the absence, then that operation gets reassigned to your standby resource so that your production planner can take action on it.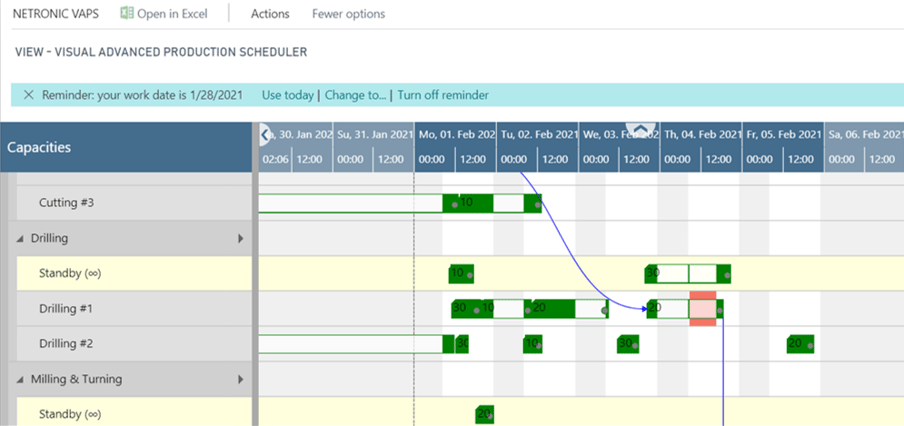 In terms of rescheduling, you could simply drag and drop an operation to a new machine center or to different date before or after the absence entry. Although it could also work to use an automatic scheduling instrument such as the apply alternative routing, for machine breakdowns, we advise to use the drag and drop scheduling to make sure that the highest priority when scheduling is given to the operations affected by the breakdown.
If you want to learn more about the VAPS, we invite you to have a look at our recent eBook "Chasing efficiency with the Visual Advanced Production Scheduler".
You can download it free here to learn more.