Here comes #4 of my best practice blogs on the Visal Jobs Scheduler (VJS), our Gantt chart add-in for easy visual project planning in Dynamics NAV. See today how to make your plan still more transparent by hiding certain job tasks that are not important for your current planning situation.
The feature I'll describe is just a common menu item, but I feel that sometimes the more obvious things are, the most likely they will be overlooked.
Filter settings sometimes can cause odd results
Perhaps you know this situation already: you want to see only tasks that are processed by a certain resource, you properly specify this resource and as a result your plan looks somewhat strange to you.
Let's have a look at an unfiltered plan with all resources being shown - all Job Planning Lines are there and can be edited: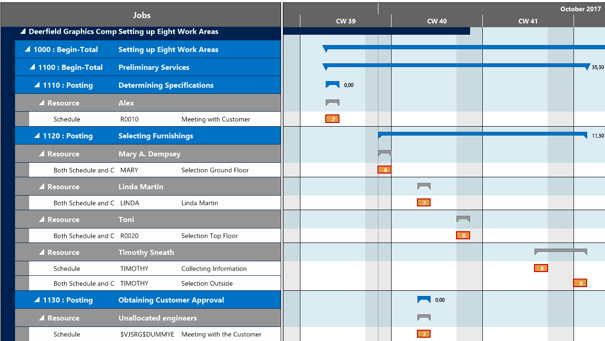 Short reminder - How to set a filter
Now we want to filter our plan by the resource "Mary Dempsey". Click on the "Configure Filter" icon in the menu ribbon of the VJS and enter the needed settings: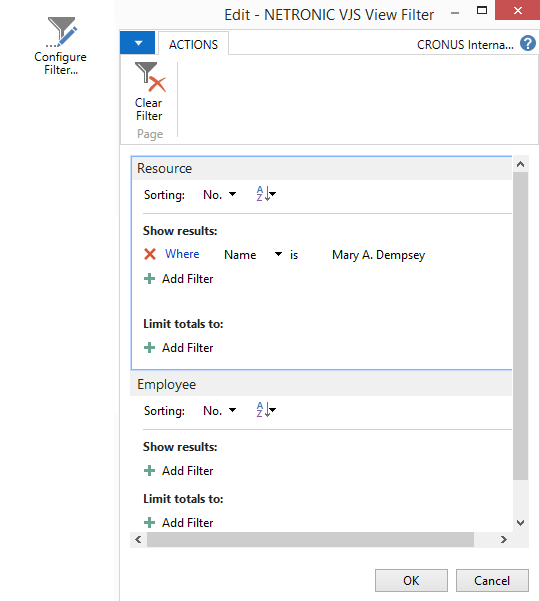 After having confirmed with "OK", acitvate your filter by clicking

.
The result - somewhat confusing

You see? The only resource being shown is Mary which is what we wanted, of course. But - all tasks that don't use Mary as resource remain empty, which means that their Project Planning Lines can't be shown and hence can't be edited. The fact that the empty tasks are still visible though you can't edit them, sometimes can't be a bit disturbing, can't it? Wouldn't the plan be much neater and clearer if these empty tasks were hidden?
Don't obscure your plan by information currently not needed
Now you're only one click away from a clear-cut view of your resource in focus. Draw the curtain for:

Click this icon and you'll only see tasks which use your specified resource.

Your benefits
Every now and then there will be situations when - for some reasons or other - you have to focus on a certain resource. A resource group manager, for instance, will mainly focus on his or her resources and hence most of the time he is interested in just a sub-part of the project. In such a case, the above described feature will be very helpful.
More information