Here comes #3 of my best practice blogs on the VJS, our Gantt chart add-in for easy project planning in the Microsoft Dynamics NAV jobs module. This time I want to show you how you can bypass a severe NAV shortfall of not being able to assign Job Planning Lines to Resource Groups. In essence, this does not allow to make a rough project planning when working with the standard jobs module.
Once again, you could wonder whether a small feature like described below is worth a whole post. But see for yourself how much your planning will be made easier by just a string of characters and by then being able to combine rough and fine planning within one planning board.
Assign Job Planning Lines to resource groups in spite of a NAV shortfall
If you start planning a project, you often know which type of resource you will need to perform a task. However, if the project still is some time ahead, you typically do not want to already decide which concrete resource will carry out that specific task. Instead, you want to do a rough project plan first.
So, the obvious solution to this problem would be to assign the Job Planning Line to a resource group and later, with more and more fine-tuning your planning, to assign it to the final resource. But in this situation you once again come across the sometimes awkward behavior of NAV:
You can only assign Job Planning Lines to resources, not to resource groups. But don't despair - we have solved your problem.
The solution: Short string - great effect
To bypass the restriction described above, you only have to create a kind of "dummy" resource. By adding the string "$VJSRG$" at the beginning of the Resource No the VJS treats this resource as if it would be a resource group:
Create a dummy resource the number of which starts with "$VJSRG$". The resource name you enter here will be shown in the table.


IMPORTANT:
For the bar length to be calculated properly make sure to assign a capacity to the "dummy" resource that is usual for this group


A white number on a red background tells you how many planninng lines are assigned to the group

The complete capacity load of the group is displayed in the histogram


Your benefits
By assigning Job Planning Lines to resource groups your project planning in Dynamics NAV gets easier:
Start with rough planning while not having to draw up your plan down to the smallest detail.
As the fine-tuning nears its completion you can reassign the workload to the actual resources.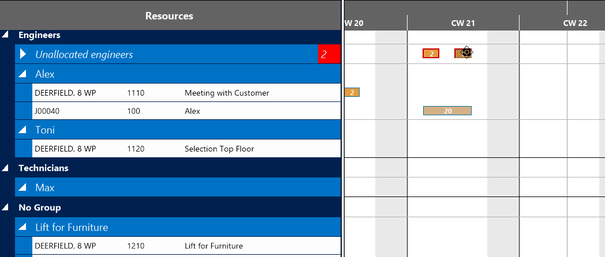 Further information