Microsoft Dynamics 365 Business Central is Microsoft's fast-growing ERP business management solution for small and medium-sized companies. As such, day by day, SMB manufacturing companies around the globe decide on this solution.
I wanted to better understand the profile of the manufacturing companies and "why" they are choosing Dynamics 365 Business Central. I gathered my thoughts based on conversations I've had with partners, guests on our podcasts, and customers. Then I combined that with information we got from our "State of Business Central and Manufacturing Report". (btw: we are currently working on the 2022 edition of this report)
These sources of information helped to answer the question: "Why is Business Central a good fit for SMB manufacturing companies?"
The typical Business Central manufacturing customer
Based on the report mentioned above, we found that a typical Business Central manufacturing customer has the following characteristics:
90%+ are either pure make-to-order (MTO) manufacturers or have a combined MTO and make-to-stock production. In the latter case, they produce repeatable components and/or sub-assemblies to stock. Then they take these items for the customer's production order. So in general, the typical Business Central manufacturing customer produces against a concrete customer's demand.
Companies producing large batches or quantities represented a minority. Most manufacturers said that a typical job for them represents between 1 – 100 units (68%), while another 23% worked with between 100 – 1000 units.
75% work with a maximum of 30 new production orders per day.
In summary, the typical Business Central manufacturing customer is a make-to-order producer with less than 30 new production orders per day and with a batch size of smaller than 100 units.
.
Reasons for getting an ERP system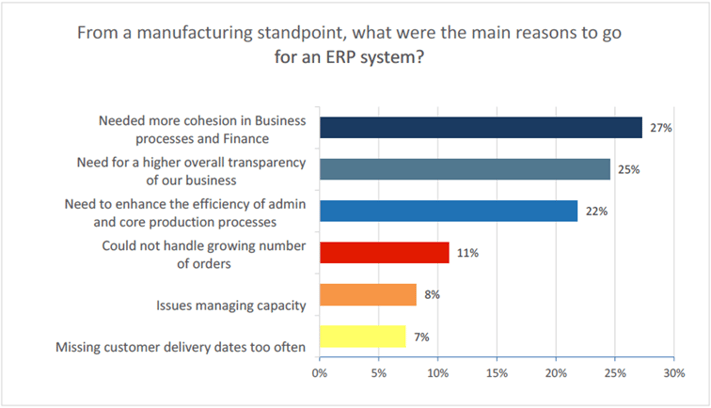 The graph above was also part of our report. I translate the main reasons for getting an ERP system into the growing pains of manufacturing companies that seem to be scaling up. They have growing orders, meaning bigger business, which most of the time would also mean more requirements to remain efficient in their daily production processes and operations.
This is a common occurrence that I see, with prospective customers that approach us. Their business grows, either more customers, bigger orders, or more orders. This puts a strain to their current processes or software, which can no longer scale with them.
Sometimes it also happens, that they are working with separate software tools that are not really compatible with each other. This adds an additional layer of complications. What they could easily do manually before has become impossible, with the amount of daily operational nitty-gritty tasks they need to accomplish.
This makes keeping an eye on the bigger picture of their shop floor difficult. Missing a beat could cause delays in production, issues with capacity, and missing out on customer delivery dates.
Picking a Microsoft Dynamics system
From the same report mentioned above, we asked Dynamics 365 Business Central (and Dynamics NAV) customers what their main reasons were for choosing a Dynamics system.
We found out that a lot of the manufacturers using a Dynamics system are not actually entry-level ERP users.
Instead, 40% migrated from a legacy ERP system that is no longer supported. Others found that their previous ERP systems were either too lightweight for them (11%, i.e., Quickbooks) or too heavyweight for them (8%, i.e., SAP or Dynamics AX). Another 17%, represented a common use case we see day to day: they mentioned that they were using Microsoft Excel and it no longer could scale along with their business.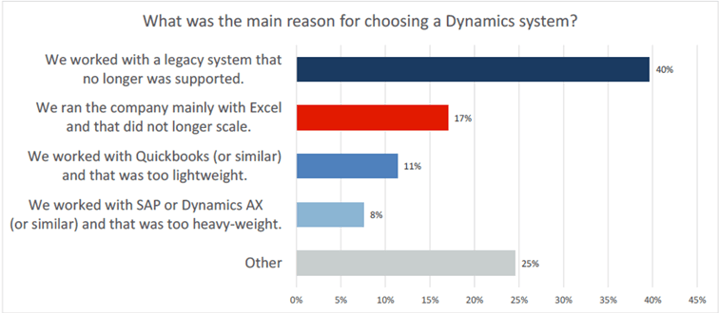 It seems that a lot of older legacy ERP systems were phased out and other popular solutions in the market are either too heavyweight or too lightweight for them. Customers were looking for a solution somewhere in the middle that could scale with them.
For a lot of them, continuing to work with Excel as a substitute for an ERP system, would no longer cut it. The files were getting too heavy. There were just too many hidden formulas and sometimes only one person understood how the sheets functioned.
Back in November 2020, the popularity of Excel for planning and scheduling was a topic in our "next by Netronic" panel discussion.
Our take on why Business Central is the perfect solution
Business Central on its own already gives manufacturing clients a lot of functionality.
Matt Kieran, a guest in one of our podcast episodes, mentioned that Dynamics 365 Business Central is both very complex and very simple. You wouldn't need to do everything on day 1one. But Business Central manufacturing can grow with the customer and become more complex when need be. This is probably the scalability that customers are looking for. Likewise, you can either customize Business Central to fit the customer's requirements or implement existing apps from Microsoft AppSource.
Hence, Business Central is a fairly scalable software. This is a great fit for customers who are scaling their business. With Business Central, manufacturers get software that suits them today. The likelihood is great that it will suit them also tomorrow.
From another podcast episode we had with Antonio Checa, he mentioned that customers he has worked with, never really invest in Business Central manufacturing specifically, but rather in the whole platform. This is because of Business Central's close integration with the Microsoft Office products. This makes working with Microsoft Teams, Excel, or Word together with an ERP system a lot easier.
The fact that a company as large as Microsoft is behind Business Central, created a lot of confidence with manufacturing clients. Microsoft has had its fair share of success in its Dynamics NAV legacy system, where it had almost 200,000 SMB customers. Microsoft has also such a big network of experienced partners around the world that customers can always receive local support from. Lastly, they work year-round to release new functionalities.
Hence ecosystem and integration make Business Central a perfect fit for SMB manufacturers as well. The seamless integration with the widely spread Microsoft Office family allows unprecedented efficiency gains. This is especially true for back-office processes. In addition to this, Microsoft's ecosystem allows local support while using a global platform.
In summary, we found out that Business Central is a strong option for the modern-day SMB manufacturing customer, because of the following reasons:
Scalability of the software
It matches with what the profile manufacturing customers are looking for - not too lightweight nor too heavyweight
Ability to make customizations inside Business Central
Third-party applications available on AppSource
Long legacy and success of Dynamics NAV
A strong company behind it - Microsoft
Seamless integration with Microsoft Office products
Local support through Microsoft's extensive partner network
Regular updates