Last week, I had an interesting conversation with Matthew Kiernan, Business Applications Director at Bam Boom Cloud in the UK. The conversation turned into the next episode of the Business Central Manufacturing Show.
When we met before the show, Matt said: "The manufacturing end of Business Central, although can be complicated, doesn't need to be super scary." I picked up that statement and opened the conversation with the WHY question.
Well, the remaining 30+ minutes just flew by and Matt managed to demystify Dynamics 365 Business Central. This went as far as transferring the concept of an MVP (minimal viable product) from software product development to ERP implementation.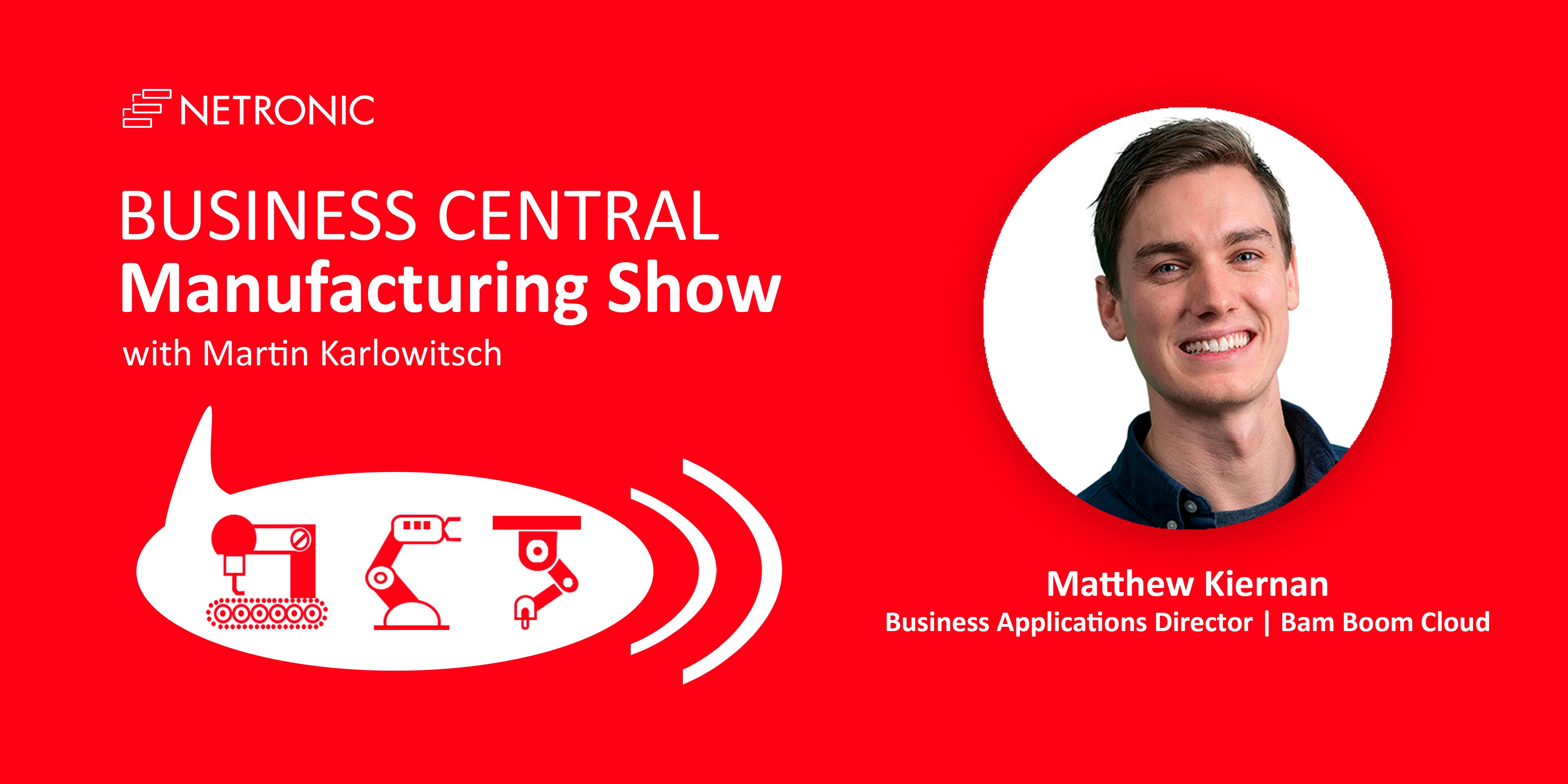 Matt started the demystification of Dynamics 365 Business Central by nailing a benefit that each customer gets from just get going with the standard version. This is the ability to gather information and learn from it. This ability translates into making data-driven decisions.
The example that Matt uses is both: simple and compelling. With Business Central in place, manufacturers gain transparency of how much it costs to make a specific item. This information alone is priceless. It can get used to making decisions such as
increase/decrease the price

stop selling the item

producing more of these items

etc.
All of the above, and much more, can get achieved without taking a sophisticated approach to Business Central manufacturing. Matt claims the beauty of Business Cental to be both: very complex, but also very simple: "You don't have to do everything day 1, but there is the headroom to grow".
However, he does not just claim it, but he provides evidence instead. He outlines the minimal recommended set of manufacturing parameters to get going fast with Business Central. In his point of view, these are items and the production BOM, followed by a high-level, rough-cut routing. If you then apply a pragmatic way of capturing time per the simplistic routing steps, customers get a reality check for their costing gut feel.
Another massive benefit of starting with a simplistic Business Central manufacturing setup is that it delivers the capability to turn raw materials into finished goods. This helps customers to stop managing inventory on a spreadsheet, which not only is prone to errors. It typically also never is up-to-date. With Business Central, customers always know what they have on the shelf and can act quicker and with more confidence. Matt also points out that and why this does capability not need any sophistication in the Business Central implementation.
Once Dynamics 365 Business Central is up and running and being used in its vanilla form, customers have many options of where to grow when it comes to manufacturing. Namely, these are:
more complex routings

planning of production orders with visual scheduling

material planning (MRP)

warehouse scanning; especially for serial tracking and lot tracking

OCR for admin efficiency (document management)
However, Matt strongly advises neither to look at these options at once nor to look at them right away when starting with Business Central. He pledges for an MVP (minimum viable product) approach to the ERP implementation.
From his experience, this approach is the best to deal with changing requirements: Avoid serving all initial requirements from the beginning. Instead, start with the standard Business Central system, use it and gain experience. Based on these experiences, refine the requirements and implement apps (or do customizations) to close "experience-based gaps".
You can tune in below 👇 or anywhere you get your podcasts.
📢

What to listen for
[01:40] Data-driven decisions = The number 1 reason why Business Central makes SMB manufacturers more successful.

[03:15] Why manufacturers should not be scared too much about the complexity of Business Central manufacturing.

[04:55] The minimal set of manufacturing parameters to get going fast.

[07:56] Pragmatic way of capturing time per (simplistic) routing step.

[12:36] More examples for data-driven decisions enabled by Business Central.

[15:20] The advantages of inventory management with Business Central - and why I can be set up very simplistic, and yet be very powerful

[19:30] Options to where to grow with Business Central manufacturing once the simplistic implementation is achieved.

[23:35] Recommended Business Central manufacturing apps to look for once your Business Central is up and running.

[26:50] The MVP (minimum viable product) idea brought from product development to ERP implementation.
Links to love
❤️