The Business Central Manufacturing Show is back. This podcast started as something I would call a "first COVID lockdown project" in spring 2020. Six months ago, I lost a bit of traction, then got distracted and the podcast came to an unplanned stop. However, we analyze our marketing data.
Here is the finding. We stopped the podcast. We stopped to promote it. Nevertheless, the episodes that we recorded got listeners. Week, by week. So: what is more inspiring than creating content that has, well, a "fan base"?
Here we are again. We decided to make the podcast a natural part of our monthly Marketing plans. Thus, we aim for one episode a month for the time being. For my first new episode, I met Antonio Checa from Spain. And we had a great conversation on how to jumpstart Business Central production scheduling.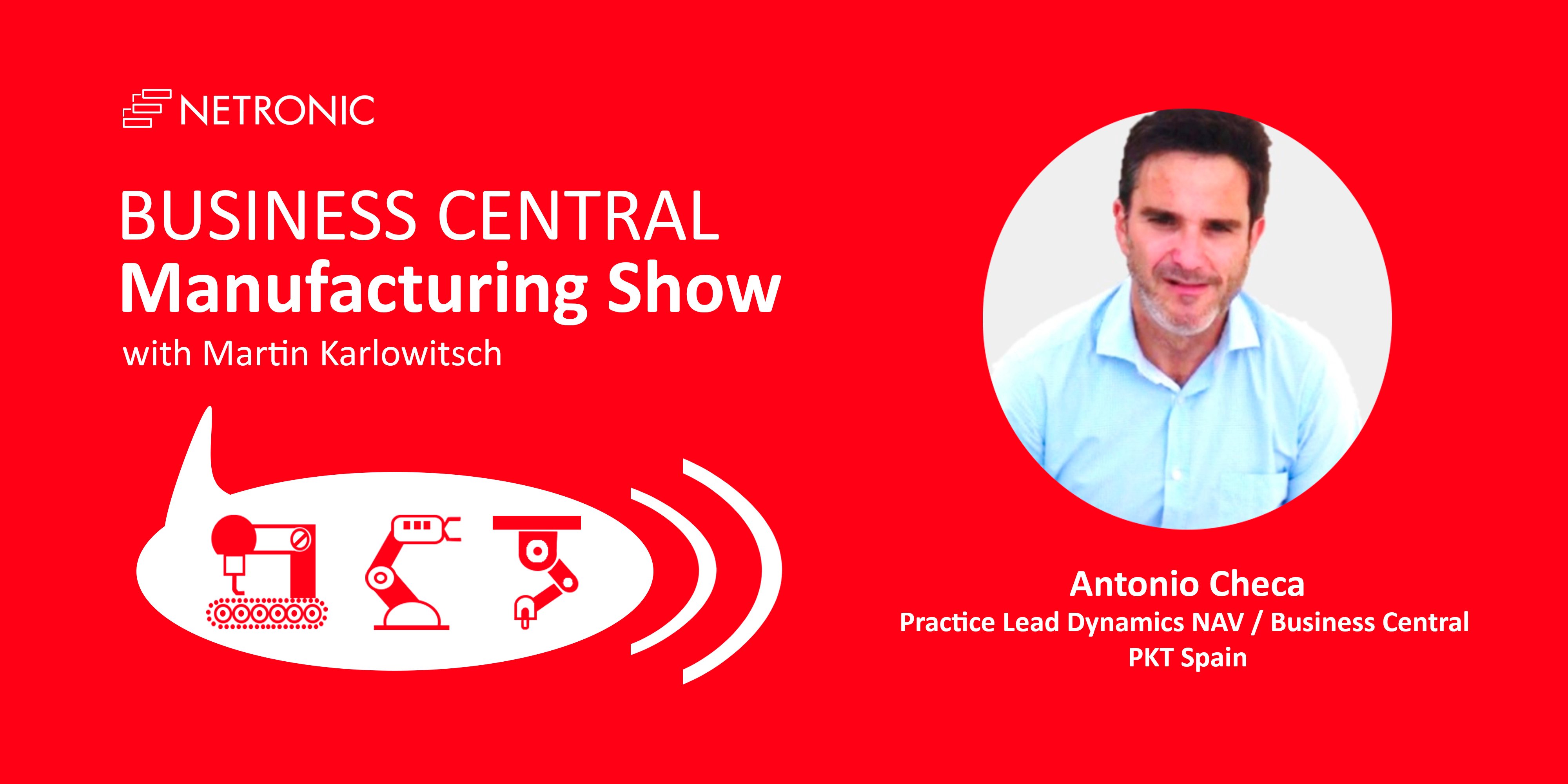 In our conversation, we flew the full circle. We started high-level (why Business Central manufacturing). Then drilled into the details (down to why setup optimization is like finding money). We concluded on a high level again with the question if Microsoft is the Empire or the Alliance.
Antonio's experience with new manufacturing customers is that they rarely come especially for the Business Central manufacturing module. Instead, they come for the entire solution and platform. Especially, the seamless integration with the Office product family is attractive to them. Typically, they share one big issue. They have an accounting system and a lot of function-specific "island solutions". It is no surprise that the latter oftentimes are made with Excel. With this, these manufacturers have a lot of information that is disconnected.
The challenge is to bring all these information sources into this one Business Central platform. Antonio's advice is not to oversell Business Central. You run danger to do so if you work with the assumption that the customer is always right. The result of this is a lot of customizations and big projects (which too take long to deliver fast results). Instead of this, the first concrete tip for jumpstarting Business Central manufacturing is: stick to the standard.
After that, Antonio reveals what he calls the "David Copperfield" trick: He shares concrete steps on how to implement Business Central manufacturing. Second concrete advice: do not go for heaven. Start with the financial and the billing system. Live in 2 months. Then add purchase automation with the purchasing part of the planning worksheet. After that, turn the paper-based warehousing processes into processes based on state-of-the-art technology. Now, look at implementing standard Business Central manufacturing. This allows you to use the planning worksheet in full swing. Once this is done, the scene is set for finite capacity scheduling.
This triggered me to ask for the conditions that should be met to make this last step. Antonio called this the "one-million-dollar question" and surprised me with this answer. The third concrete advice for jumpstarting Business Central manufacturing is: you need to have a smart guy. This person should be familiar with both how Business Central works and with how the shopfloor works.
I was truly pleased that Antonio brought the "human factor of scheduling" into the discussion. It made me ask what I sense was the "true one-million-dollar question": Should the final scheduling decision be made by the algorithm or by the person working with the scheduling software? Antonio picked it up and developed compelling thoughts on the importance of scheduling parameters and the need to continuously tune them. That brought him to the fourth piece of advice for jumpstarting Business Central production scheduling: do not blindly rely on algorithms.
You can tune in below 👇 or anywhere you get your podcasts.
What to listen for:
[04:40] The issue with functional island solutions based on Microsoft Excel.

[09:23] Why you should avoid selling big projects.

[12:00] Ingredients and steps to implement the standard system without customizations to bring a rapid value to the client.

[18:05] The one-million-dollar questions: Conditions that a customer must have in place to be ready for a capacity-constrained scheduling system.

[23:00[ The true one-million-dollar question. Should you directly trust the results of an automatic scheduling system? Or should these results be checked, and treated by people who then can also change them?

[24:40] Why setup times are the biggest chance to "find money" in the shop.

[31:05] Is Microsoft the Empire or the Alliance?
Links to love ❤️