The Visual Advanced Production Scheduler, which you already might know as VAPS was a product we started working on around middle of 2019 in collaboration with our friends from TecMan from the UK.
The VAPS is the first finite capacity visual scheduler fully integrated into Microsoft Dynamics 365 Business Central. As such, the VAPS is the big brother of the Visual Production Scheduler (VPS), which you probably already know about. Although both products work with Business Central's manufacturing module, they are still quite different.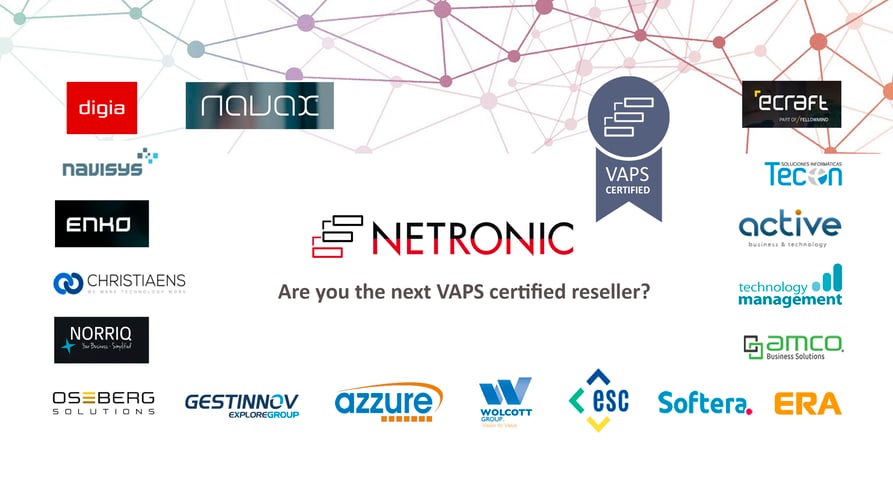 The VAPS has been making headway
We started a beta testing period since end of 2019 up until the launch of the VAPS around January this year, with a handful of partners, who helped us immensely in finalizing the VAPS and fine tuning its functionalities. Eight months after our official launch, despite the economic slowdown caused by COVID-19, the VAPS has been making headway.
Started with 4 VAPS certified partners in the beta testing phase (Big thank you to you all)

Now 15 partners have completed the VAPS certification and join our original four partners. Our

VAPS resellers

represent 3 continents and fourteen different countries

.
| | |
| --- | --- |
| NETRONIC Reseller | Country |
| | Spain |
| Alphametrics (AMCO Business Solutions) | Thailand |
| | Canada |
| | United Kingdom |
| | Finland |
| | Finland |
| | Germany |
| | Belgium |
| | France |
| | Austria |
| | Czech Republic |
| | Belgium |
| | Denmark |
| | Norway |
| | Lithuania |
These partners have a competitive edge in their respective markets, as they are certified to sell the only available finite capacity scheduler that fully integrates into Business Central.

More than 10 customers are already using our product and a lot more in the pipeline.
The VAPS is not just available on Business Central on-prem, but it is also available via AppSource for the cloud version.
VAPS Certification requirements
For those of you who have not yet inquired regarding the VAPS certification process, you can find the details here. In summary, the partner would have to fulfill the following steps:
Pay the certification fee of

€ 1,950

/

$ 2,500

Complete our online VAPS courses on our Visual Scheduling Academy and take an exam in the end
VAPS Support services offered by NETRONIC
Our team would also be providing you with the following value added services to assist you in the VAPS learning process and getting your first deal through the door (these remote sessions can be provided in German as well):
Remote kickoff meeting – Introduction to the VAPS and a summary of the succeeding steps

One year access to VAPS courses on the Visual Scheduling Academy

Two hours technical & functional support after completion of training courses (requires the exam)

Our sales team will be participating in 2 pre sales meetings (requires the exam)

Demo version of the VAPS for your BC environment

"VAPS certified partner" certificate
Expect continuous improvement
With 19 VAPS certified partner and counting, expect that we continually enhance our product to serve our customer better. In July, we released the VAPS version 1.2, with some new exciting functionally around automatic scheduling. And right now, we are finalizing version 1.3 to ship end of September: sign-up for our next webinar in which we'll share what is new with the VAPS.
Learn about the VAPS and get started
If you're interested in getting VAPS certification, now might be the best time for you to get started. You can reach out to me directly at lawin.ileto@netronic.de or at sales@netronic.de to get started on your VAPS journey.