A new version of the Visual Jobs Scheduler, our Microsoft Dynamics NAV project planning add-in, has been released. The interactive planning board for visualizing jobs, job planning lines, job tasks, resources and resource allocations offers two major new features that are introduced in this blog post. Read below what we've come up with.
Creation of Job Planning Lines in the Resource View
Up to now, job planning lines for an existing job task of the type posting could only be created in the Jobs View. From now on, users of our visual project planning add-in have the same capability with the Resource View via the context menu item "Create Job Planning Line".

Selecting the according item from the context menu calls a dialog for entering the missing job and job task information.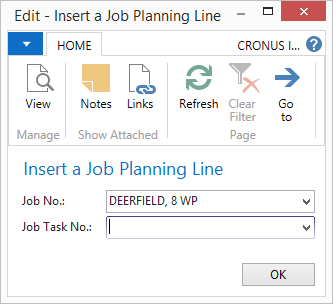 Clicking on the drop down symbol next to Job Task No will call a dialog to select from available Job Task numbers.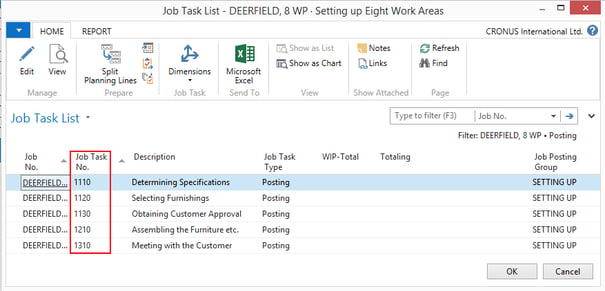 Afterwards the job planning lines list will be shown with the just created item.
The interpretation of the Job Tasks was modified, so that the hierarchy will be created even if not every Begin-Total has a corresponding End-Total entry on the same level. This only works if the Totaling fields of the End-Total Job Tasks specify a valid structure.
Show "% Completed" as Bar Label
The field "% Completed" can now be displayed for the job tasks per level, its calculation being based on the % Completed field of the Job. For this, the Configure Bar Label dialog has been modified and now offers an enhanced list of available fields to be shown as label,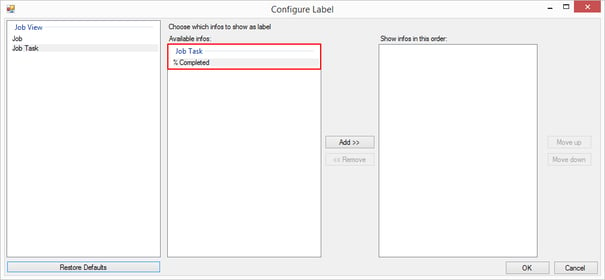 This way, the user can display even more individually relevant information in the planning board.

Your next step
Check out the features released with version 1.3 end of 2015.
Want to see the new functions in action? Schedule a demo via the below button. Alternatively, attend the online-webinar in which we presented all new features of all our visual scheduling add-ins for Dynamics NAV.