Do you work in construction? Today we are happy to announce that we are collaborating with ProjectPro from the USA to introduce a version of our signature extension the Visual Jobs Scheduler, now connecting with construction software ProjectPro for Microsoft Dynamics 365 Business Central.
This joint product is meant to provide jobs and resources users of Dynamics 365 Business Central with better business control and streamlined accounting for construction firms.
The product, named Visual Jobs Scheduler (VJS) for ProjectPro, will be sold through ProjectPro, a Netsmartz company. This construction focused first version of the VJS for ProjectPro is available since April 2021.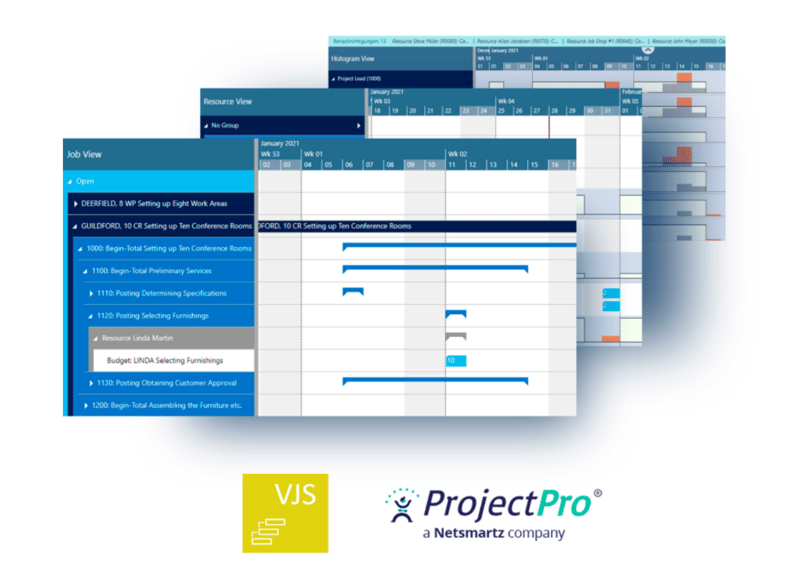 Visual Jobs Scheduler (VJS) for ProjectPro
The VJS for ProjectPro brings visual scheduling to their construction management software as an extension to Microsoft Dynamics 365 Business Central. It enables customers using Business Central's production orders to understand their production loading and schedule with a graphical transparent, easy-to-understand display that also assists by with advanced rules.
In addition to all the great benefits, you acquire by working with ProjectPro such as the help to create job quotes, converting job quotes to jobs, build assemblies of items, labor, equipment, subcontract entries, ease to use job quote templates, smooth access to job quote reports you are now able to schedule each job planning line to the proper resources with the help of an interactive Gantt chart.
The VJS for ProjectPro fully integrates with the jobs and resources planning module. Allowing you to always work with the right information.
Why we paired with ProjectPro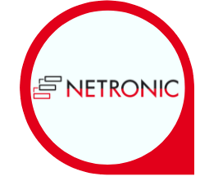 "While we have more than 40 years of experience developing powerful and flexible Gant charts for visual scheduling, we are not the most knowledgeable when it comes to a construction site. Luckily ProjectPro is an expert on the matter.
Through this collaboration, ProjectPro and us, are working together to broaden the scope of their construction vertical solution. The VJS for ProjectPro is a ProjectPro-branded product and will be solely sold and implemented by ProjectPro experts" - Martin Karlowitsch, CEO of NETRONIC.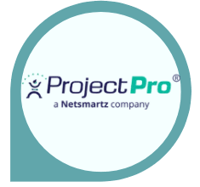 "We specifically designed ProjectPro for Construction Firms to integrate data, provide intelligent transaction processing, as well as robust capabilities in generating analytical reports. At the same time, for years, we implemented the Visual Jobs Scheduler to fulfill the scheduling requirements and enable our customers to schedule their resources all within the same database. They can benefit from directly scheduling their employees, equipment, and subcontractors all in a single solution. We are excited to launch the VJS for ProjectPro enhanced additional functionality to make ProjectPro the all-in-one construction accounting software" - Ed Williams, ProjectPro Product Manager.

A bit more on ProjectPro
ProjectPro (www.projectpro365.com) is a division of Netsmartz LLC global group of companies. Netsmartz has been headquartered in Rochester NY and expanded to over 8 global locations with over 1000 team members. Netsmartz is focused to provide organizations IT solutions and services to suit your business needs. From CRM & ERP solutions, custom software development to infrastructure services, their dedicated team of professionals have you covered.
ProjectPro holds the potential to integrate your crucial job quoting, project accounting, resource management for labor and equipment, material planning, customer relationships, and now visual scheduling, all in a single database.
Working in construction projects?
Make sure to take a look at this great new tool and how you can take advantage of it.