The increasing importance of Microsoft AppSource, as the marketplace for Microsoft Dynamics 365 Business Central customers to try or purchase products made by ISV's, has changed the landscape of the industry. Like many of you out there, who have your solutions listed on AppSource, we went through quite a journey of having our products listed there. Our whole portfolio of Business Central products has been available on AppSource since mid-2019. As of now we have three products on AppSource, namely; the Visual Production Scheduler (VPS), Visual Job Scheduler (VJS) and Visual Advanced Production Scheduler (VAPS).
We are proud to not just have our solutions on AppSource, but also the fact that we have already listed one consulting service, which will be a poster child for more consulting services to come. We believe by offering several consulting services on AppSource, we can greatly complement our applications. By doing so, we also make it easier for (prospective) customers to get in touch with us and learn about our products.
Free consultation services
We will offer two consulting services, one for the job module & the other for the manufacturing module of Business Central. These are both Free 1-hour consultations with our NETRONIC scheduling experts.
Below are some of the main talking points for these services:
Current knowledge of Microsoft Dynamics 365 Business Central manufacturing or jobs
Current process of planning and scheduling; scheduling tools & requirements
Current pain points with Business Central
How to improve turnaround time and bottlenecks on resources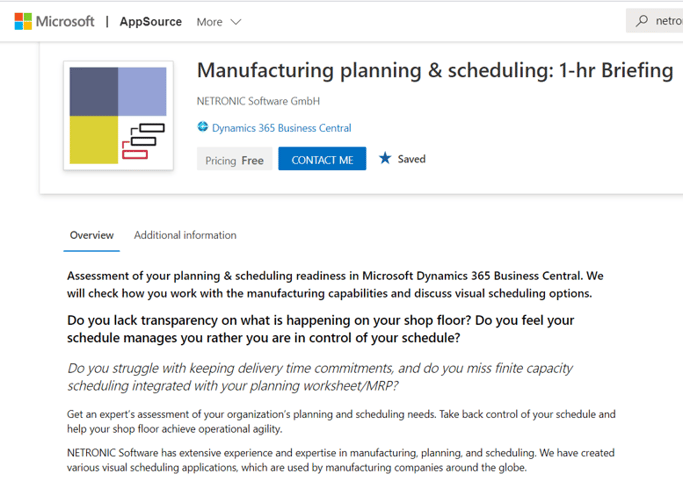 During this one-hour session, we assess your company's planning & scheduling readiness. Given our extensive experience and expertise in manufacturing, planning, and scheduling, we want to understand your pain points and how you work with your current manufacturing capabilities. We look at your company's machine centers, routings and productions orders. After which, we will give you guidance of how to best
Job planning & scheduling: 1-hr Briefing (coming to AppSource soon)
In this one-hour session, we will give you our expert assessment of your organization's project planning and scheduling readiness by analyzing your organization's use of Business Central. We will to scope out ways that your organization can leverage on transparency of your company's jobs, job planning lines and resources to improve your overall efficiency.
Quick Start Package (coming to AppSource soon)
Our Quick Start Packages are paid Proof of Concepts (POC). It is the first step towards visual scheduling success. We make sure that we guide you step by step to make sure that you have a good feel of the product. We offer different Quick Start Packages for our different products. Typically, our Quick Start Packages includes the following services:
One day support including the following.

Introductory training (1.5 hours)
Application & use case training (1.5 hours)
Ongoing scheduling coaching (5 hours to be used within 1 year after purchase)

Remote installation support
30 days free trial
1 year access to the Visual Scheduling Academy (VAPS specific)
The following are the Quick Start Packages available:
| | | |
| --- | --- | --- |
| Product | Price | Product description |
| | €1550 | Graphical drag and drop scheduling for manufacturing customers |
| | €1950 | Finite capacity scheduler for manufacturing customers looking for more advanced scheduling functionality |
| | €1550 | Graphical drag and drop scheduling for project & resource planning |
At NETRONIC, we understand how difficult it might be to work with Business Central. Now with our consulting services, we are committed in helping our customers take their baby steps with our visual scheduling solutions and maximize the benefits that you can reap from Business Central.
If your interested to learn more about our products or consulting services, feel free to reach out us