Naturally, a the complexity of production planning increases with the number of resources used. If only one machine is needed for finishing off an order, planning will be easy: Bringing forward an urgent order will postpone all other orders accordingly. Changing pre-planned orders will become a bit more difficult, however, when planning e.g. the manufacturing of products requiring several resources such as machines, staff members and tools, since the different allocations have to be taken into account. In such cases, visual production scheduling will be helpful.
This blog post mainly addresses manufacturing companies who need to plan production orders, manage delivery time commitments and have to allocate multiple resources to one order or to dedicated operations of one job. Learn from this blog post how a graphical planning board helps visualizing the results of an automatic remote control with several resources and in addition supporting the manual control of orders by immediately showing conflicts when an order is moved.
Key elements of the visual production schedule
The function of the graphical planning board shown in the below video sample is based on the following key elements:
Three resources are needed for a production order: one work station, one or more staff members, and one or more tools.
The staff members can serve all work stations and all tools can be used at all work stations.
The planner works with production orders both scheduled and not scheduled.
Resources can be added to not scheduled orders via a checkbox.


Realizing the graphical planning board
Four views are available to the planner:
Production Order View
Staff View
Machine View
Work Center View
Two Gantt charts are placed one above the other, distinguishing between
Not scheduled orders (unplanned)
Scheduled orders (planned).
A checkbox placed to the right outside the Gantt chart shows the resources used per order in the three resource groups. An order may need several resources of a group. Not scheduled orders don't necessarily have to occupy resources yet, they can be allocated by checkbox.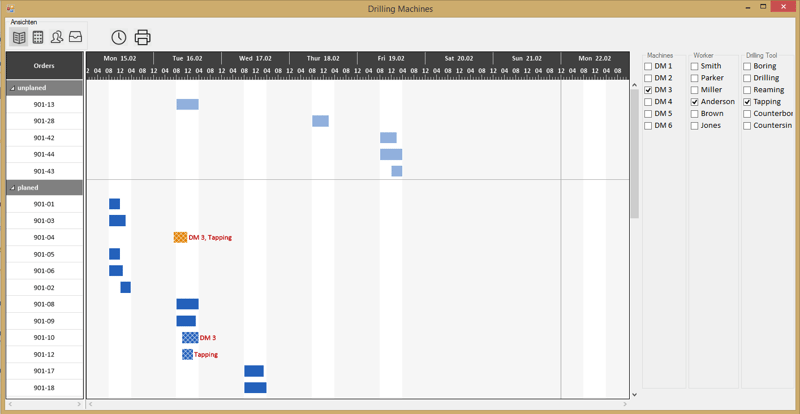 By drag & drop, the planner can manually add not scheduled orders to the already scheduled ones. When an order is moved, the resources possibly causing a conflict, are being indicated.
Visual Production Scheduling Application live
The video shows how the graphical planning board actively supports the planner manually managing the production schedule by providing visual guidance.
This visual scheduling sample application was developed with the .NET component VARCHART XGantt.
Individuality is a must
Visualization lets the planner gain valuable decision support and enables him to react to unexpected incidents quickly and safely. This is only one example of how a graphical planning board could look like. Every production planning application has its own individual planning basis which needs to be reflected in the visualization.
We develop interactive Gantt chart applications for many companies - and whether designed for project planning, production control, logistic, or staff scheduling – each of them exactly matches the underlying data and business logic. If you are on the look for a visualization to gain clarity on your planning process while at the same time being able to intervene manually, use our free consulting services. We are looking forward to every new challenge.
Read more
Gantt Best Practice: Queued production orders for full use of capacity
8 Compelling Reasons for Visual Production Scheduling
15 requirements that need to be part of your production scheduling process