I had the opportunity to conduct an interview with AJ Ansari as third episode of the Business Central Manufacturing Show. AJ is Chief Operating Officer with Dynamics Southwest from Houston, Texas. However, more than that he serves as a volunteer in various committee roles with NAVUG, IAMCP, Dynamics Credentialed Professionals (DCP), and Directions North America, and has been recognized as a Microsoft MVP. In our conversation we also came across his passion for football and developed the idea of situational manufacturing by learning from successful football teams.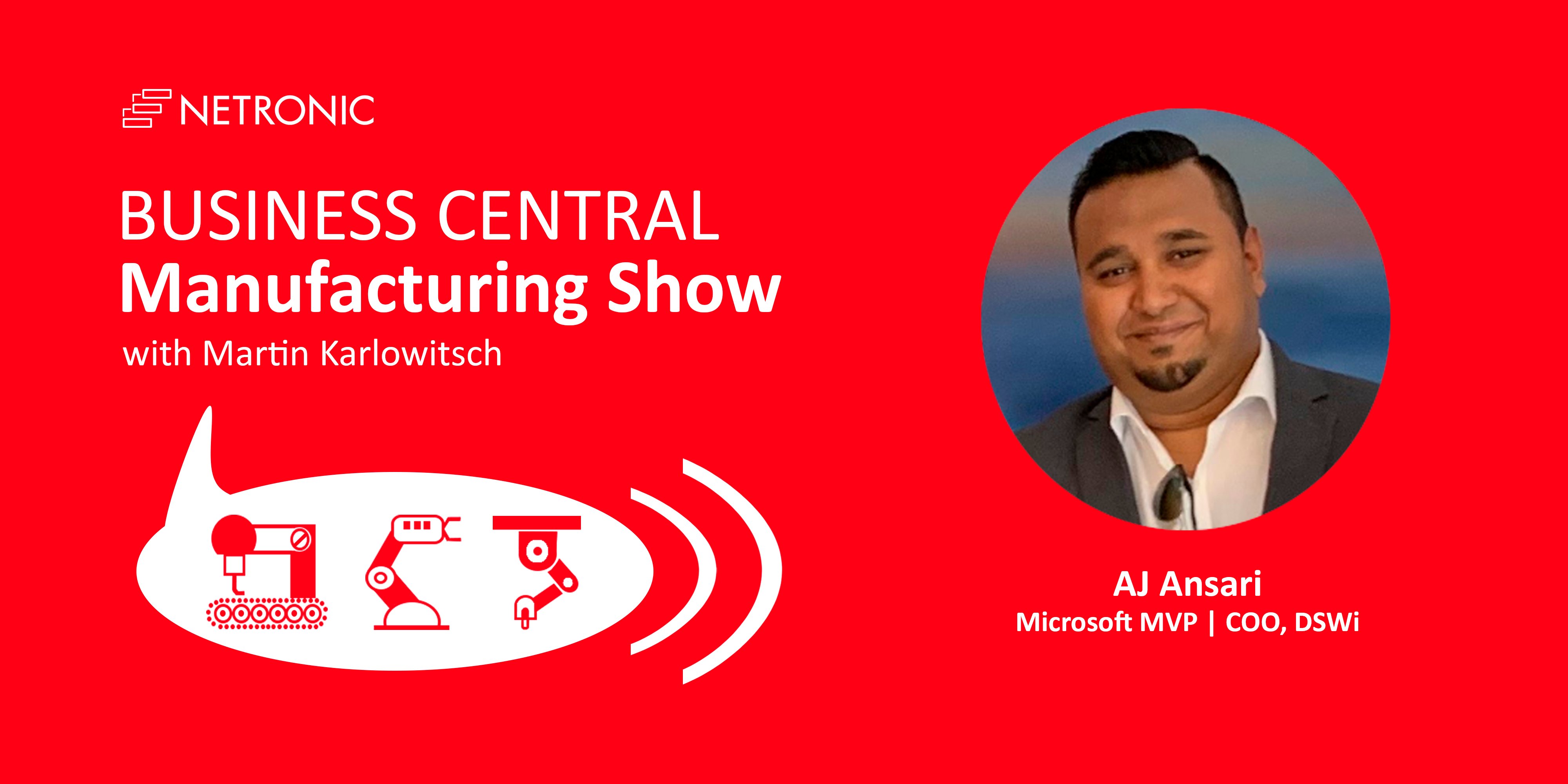 Starting the show, AJ and I exchanged some thoughts as to if and how manufacturing companies are prepared for the SaaS era. It became rather obvious that the foundation has been laid for many manufacturing companies to run their admin operations from cloud-based services.
With this, an interesting effect happens: increasingly, smaller manufacturing companies (who in the past e.g. ran on Quickbooks) start to look at Microsoft Dynamics 365 Business Central. This is an opportunity for Business Central partners, but also a challenge to re-invent some of the established Business Central manufacturing consulting best practices. In that regard, AJ came up with the idea of a "prescriptive manufacturing solution" for smaller clients, and provided a thorough level of detail to it.
We then switched the perspective from the detail to 30,000 feet above and looked at what manufacturers can learn from successful football teams. It is those teams that succeed who are capable of quickly adopting the strategy depending on what is happening on the pitch. This idea coined the phrase "situational football" and hence "situational manufacturing".
You can tune in below 👇 on Apple Podcast, Spotify, Stitcher, TuneIn or anywhere you get your podcasts.
On this episode, you'll learn:
How and why manufacturers increasingly get ready for the SaaS era.
If and how SaaS vs. on-prem have an impact on ERP project implementation times for manufacturing companies.
Why ERP for manufacturers should not be a question of technology, but first and foremost of best practices, knowledge and subject matter expertise of the partner.
The idea of a "prescriptive manufacturing solution", what this is all about and how a prescriptive manufacturing solution could look like.
What manufacturers can learn from successful football teams and how "situational manufacturing" comes into play.
Why we all should read "roaring out of a recession" and what we can learn here.
What to listen for:
[04.49] The SaaS and on-prem differentiation from a financial point of view: CAPEX vs OPEX
[06.28] What happens when users of e.g. Quickbooks manufacturing want to scale up to a solution like Microsoft Dynamics 365 Business Central.
[09.13] Why lower market customers coming from Quickbooks manufacturing require a more "prescriptive solution".
[12.00] How the idea of "situational manufacturing" is born and why manufacturers should apply best practices from successful football teams.
[16.45] What the different strategies are that businesses can apply when there is a recession and which strategy is likely to yield which kind of result.
Links to love
❤️
: