We finished the new releases of our extensions for visual scheduling in Microsoft Dynamics 365 Business Central shortly before Easter and now are glad that already versions 1.10 of both the Visual Production Scheduler (VPS) and the Visual Jobs Scheduler (VJS) were approved by Microsoft and can be downloaded from AppSource as of now.
So, sit back and see what we have on offer.
#1 Links on all levels (VJS)
We enhanced the options of creating links and link structures in the VJS so that you can plan and structure your project even more flexibly.
Up to now, you could only create links between job planning lines. This, of course, placed a certain restriction on structuring your processes. We were aware of this and now offer you the option to create links on all levels - as usual via the context menu - meaning between jobs, job tasks and job planning lines, even between different levels, e.g., job to job planning line and job task to job. The good thing is that, of course, these links are all being considered during interactions.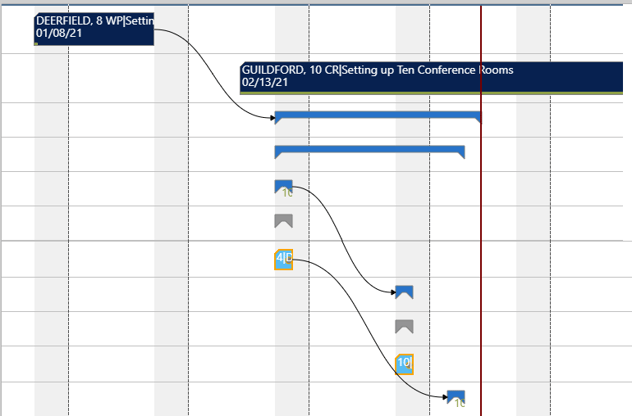 #2 Show baseline information (VJS for ProjectPro)
We enhanced the VJS for ProjectPro, in way that the ProjectPro team now can use events and functions to display the original temporal extension of job planning lines in comparison to their current state. Specifically, this means that the job planning line bars show a thin strip below the actual bar indicating the baseline times so that the planner has the original plan in view.

#3 Public API for the VPS
The VPS was extended by an API with which the customer can change the behavior of the app via extensions. This new feature seems to be a small one at first glance but, believe me, implementing a powerful API requires a lot of development work. This actually is a major first step of making our extensions extensible.
Since describing every new function would go beyond the scope of this blog, watch out for a detailed description coming soon.
That's it for today, I hope you'll enjoy the new functions and enhancements. As always, the complete release information can be found in the respective notes for VPS and VJS.
More information