There's no doubt we are in "strange" times, right? We all had to adapt, both personal and professionally speaking. Large events were canceled or postponed. Even the Olympics were deferred to 2021. Luckily for us, on the IT side of life, most of our events are migrating to online hosting, like Directions 4 Partners n this week. At NETRONIC, we embraced this spontaneous change by hosting our own virtual event, which we named next by NETRONIC. The idea of our "next" events is to talk about topics, rather than to demo products.
Our first session, back in May covered visual advanced production scheduling. We invited experts and the audience to take part in a session to talk about the main hurdles when it comes to production scheduling in Business Central and how to overcome them.
We had fun organizing and moderating our first session that we felt delighted with the idea of bringing up session 2. This time we discussed the constant battle between production planning & scheduling. And here is our takeaway!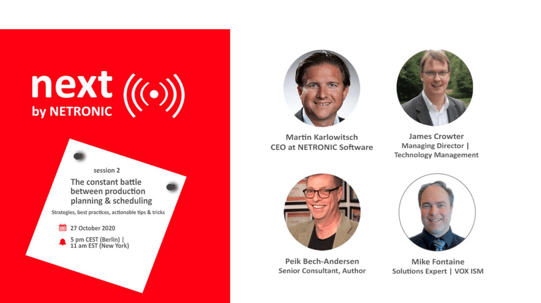 Planning and scheduling seem to merge into one verb. According to our survey among our customers, most of you differentiate between planning and scheduling in the company but in the end, it is one person who handles both. Along with this statement, the ones who don't differentiate between the two tasks are also tackled by one person. This answer highlights the on-going dilemmas that go with planning and scheduling in a small and medium-size manufacturing company.
With this in mind, we engage with three Business Central manufacturing experts in an online panel discussion: James Crowter, from Technology Management, Peik Bech-Andersen, author of the book "Manufacturing with Microsoft Dynamics NAV" and Mike Fontaine, from VOX ISM. Together with Martin, the CEO of NETRONIC, our group of experts discussed the constant battle between production planning & scheduling.
After a brief exchange of ideas, our partners mentioned that most of their customers come to them to seek for advice on how to plan for the long-term, for master production planning, and for production scheduling. Which brought us to Excel.
As we all can agree, Excel is flexible and most people know how to use it. It's easy to personalize and can be the solution to the planning and scheduling dilemmas. However, Excel can be a blackhole for information because it is not meant to be a database therefore it's next to impossible to maintain up to date and people may not respond directly to the issues risen. With Excel you would have to export the tasks list, manipulate it manually and then load it back up, as it is completely outside of the environment and it duplicates the efforts.
In other words, Excel is a great starting point for managing a schedule by updating the spreadsheets. But, there are a lot of features that can make this step fast and accurate in Business Central.
The way we see it, Business Central technically looks and works like Excel. The core difference being that BC is bidirectionally integrated with the entire system. In this sense, BC is extremely practical because you can close gaps in communication by sticking to Microsoft's products. You can use Microsoft Teams, as one of the best chat options for internal communication, and use the BC table or phone app to see and respond immediately on the floor.
From our partners we understood that, most planners feel overwhelmed when using the lines of the planning worksheet in BC. The planning worksheet can feel a little confusing to start with. This is why, a lot of users tend to move away from their main ERP to another software, as the Excel example. Meanwhile, sticking to BC is the best option. Planning worksheets align to the supply chain and every other unit of the manufacturing company, leading to customer satisfaction.
We enjoyed discussing strategies, best practices, and listening to actionable tips and tricks. Learning that: If you already invested in implementing BC, committing to learn more on it is the safest bet. From the standard modules to extensions, planning and scheduling can be exceptionally conducted with greater information.
As I side note, I would like to add that whether you have a webinar, workshop, conference or panel discussion and would like to address the Manufacturing module of Business Central make sure to let us know. I assure you, we will take the invitation seriously.
We look forward to all future online invites!
PS: We recorded this session, and you can watch the recording of this very lively discussion here.
PPS: We also turned this panel discussion into a podcast, and you can listen to this episode of the Business Central Manufacturing Show here.