After our major release of the Visual Jobs Scheduler (VJS), our project plan and resource Gantt chart for Business Central, in June, we have used the summer break to respond to an urgent customer's demand and at the same time took the opportunity to add some other nice new features to the VJS. In spite of this being a minor release, indicated by the number 1.11.1.0, you will see that the features are in no way minor but will bring great effect to your planning.
So, after having enjoyed reading this post, don't hesitate and get your new version from AppSource!
#1 Show allocations on a job in the job line
With this feature we have fulfilled a customer's request. You can decide whether to highlight all dates on the job line on which job planning lines are planned and occupy resources:

If you want to use this feature, you can tick the according option in the "Appearance" part of the user settings.



#2 Specify link duration
Up to now, the link duration was always set to 0 and could not be changed. Now, you can specify the link's duration in days either directly when creating it or also later by the new edit item of the context menu (see #3).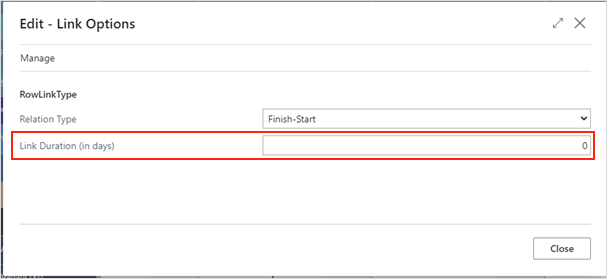 The link duration will be considered during drag and drop interactions and also when successors get scheduled. If the time interval between the linked elements is smaller than the specified link duration, the link will appear in red:



#3 Edit links
As mentioned above, we have implemented an option to edit links and thus being able to change their type and/or duration. For this, the context menu was enhanced by a new item: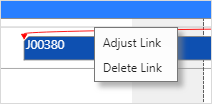 That's it for today, I hope you'll enjoy the new functions and enhancements. As always, the complete release information can be found in the VJS release notes.
More information