Again this year, we as NETRONIC - The Gantt Solutions Company - but also myself personally attended both Directions EMEA and US. Now I find myself hanging around the hotel lobby, and waiting for my plane to head backwards from sunny Florida to the autum-ish Germany. While sitting here I started to think of both events, the absolutely great people I met, and the plethora of content I consumed. Sorting all these impressions, I seem to bring three major take-aways home with me, and I am pretty sure that they will play an important role in how we as a provider of visual scheduling add-ins will further develop and progress. Actually, I firmly believe that these take-aways not only impact our products, and hence I decided to share them in this blog post.
Take-away #1: Dynamics NAV has become a 'prodvice'
Not sure how to better phrase this. We all are familiar with the typical evolution of a software product. Once it is released, it gets enhanced over time - with major and minor releases providing new features, enhanced user experiences and sometimes also under-the-hood-changes to make using and/or deploying the product more efficient. Despite these changes: what used to be a product, keeps being a product. Well, it seems that Microsoft (the guys who have been playing a crucial role in in building and establishing the release cycle-way of a software product business) actually decided to change the rule of the game. Just taking a glimpse, all is as expected. The version number changed from 2015 to 2016, and some features have been added. But after taking a closer look, nothing is as expected. The complete entityMicrosoft Dynamics NAV has made a metamorphosis from version 2015 to 2016. What used to be a classical software product, now is a software service at the same time. The intriguing thing: it is neither a product nor service approach. It is a hybrid. A dual product and service approach. So, in my current "I am relaxed in the hotel lobby in Florida"-mood, I am tempted to call that thing a "prodvice".
So? How does this impact us?
There are two facets to this: (a) a business and (b) a technical facet. Seeing change coming (maybe not expecting it that fast ;-) and being a business person, I spent a lot of time dealing with (a) beforehand and aked myself if we as a company are prepared changing our business model from an on-prem perpetual license business to a business supporting a SaaS deployment and revenue recognition model. This had been positively answered and starting from a blank piece of paper and in a close dialogue with many partners, I sense we developed a good fitting SaaS pricelist for our visual scheduling add-ins which will be released to our partners when I am back home.
Now let's face the (b) technical impact of Dynamics NAV being a service. If we strip this down to its essence, a service means no version as we are used it, no release, no upgrades. Yes: all customers will always be on the ever current and gradually enhanced version of the same product; sorry: of the same service. This actually will have a huge impact on ISV solutions: if our partners will sell Dynamics NAV as a service, they will want to sell (and deploy) our visual scheduling add-ins as service as well. But, if they do not have to care for versioning, upgrading etc. for the ERP system, they will not want to take care for versioning, upgrading etc. the ISV add-ins. Well, I sense that we have to spend some time thinking on how to gain "service-ability" for our visual scheduling add-ins, which means how we can further enhance them so that they just fit into the Dynamics NAV service as they today fit into the Dynamics NAV product. Good news though: our add-ins are already designed to have a minimal footprint in NAV, not requiring any merge of objects and to be installed and up and running in less than 15 minutes.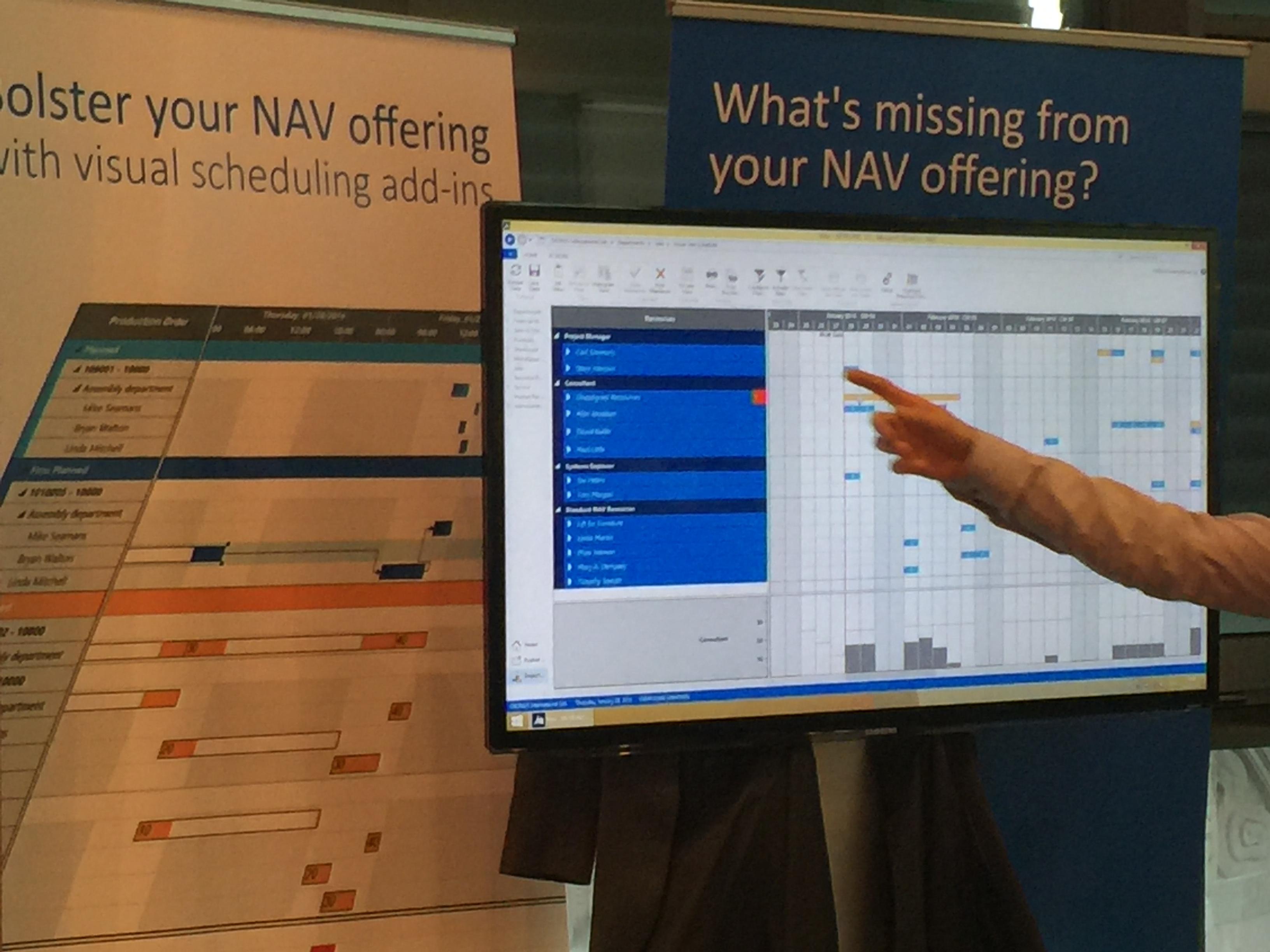 Take-away #2: Dynamics NAV goes app
Disclaimer first: I did not hear an official and loud announcement. So, whereas take-away #1 deals with a lot of facts and evidences, this one is more of my own assessment. However, having observed the technology platform advances in the past few years, the metamorphosis from a product into a 'prodvice' as well as the introduction of the Dynamics NAV extensions this year, I sense that we are rather close to getting some kind of infrastructure that allows enriching the Dynamics NAV experience with some kind of third-party apps. Means: no longer external add-ons nor better integrated add-ins via the Client Extensibility Framework, but enhancement apps. The benefit of such an approach would be obvious: no - not at all any - change to the standard Dynamics NAV service enabling the partner to deploy a standardized service (maintained by Microsoft) and then enriching it by his own or by his partners' apps. I bet that this is the direction we are heading too.
So: Is my add-in business on risk?
I do not think so. Its nature will change, of course. But I feel rather well prepared to cope with the change - at least from a technological standpoint. Why? Well - in these days, the technology of choice to build platform-independent and device-agnostic apps is JavaScript/ HTML5. This is something, we have been working with from day 1 that Microsoft widended its Client Extensibility Framework to also be able facilitating HTML5/ JavaScript add-ins. In fact, we feel that we were and are an early adopter here and started sharing our developer knowledge in a series of blog posts which gained us some super feedback from the community. As of today, our Visual Production Scheduler add-in is available as fully integrated HTML5/ JavaScript add-in working in the Windows, the Web and Tablet Client of Dynamics NAV. Our call-to-action now is to take it one step further, review the architecture and figure out if and how we can use the NAV extensions to package out add-ins in an app-type of way.
All in all, I am excited about the days, weeks and months ahead and am convinced that we will continue having a lot of fun with providing visual scheduling capabilities for Dynamics NAV. And this brings me to my third and final take-away.
Take-away #3: Directions is - besides the hard work - big fun
As happy as I am heading home now, it is kind of sad that we now have to wait almost another year before the Dnymics NAV community meets again. As in the past years, it was fun learning all this great content in many sessions, having so many great discussions at our booth about our visual scheduling products, meeting and catching-up with partners, getting to know new folks who might become valued partnes soon and also being invited to sit down with some of the Microsoft staff. In addition with a wonderful Oktoberfest and the night in the uncredible Harry Potter Diagon Alley made Directions for me what it should have been: hard work paired with big fun.
So if you wonder what I refer to when speaking about visual scheduling for Microsoft Dynamics NAV, please feel free to download the below complementary Ebook.