Martin met with Shannon Mullins, Chief Revenue Officer of Accelerynt, and a Microsoft MVP of business applications. She has over 20 years of experience in - amongst others - deployment implementation of CRM and ERP systems and hence has a deep understanding of the functional aspects of projects' process automation and system design and the reporting needs and requirements for complex ERP systems.
While talking to Shannon for the first time at last year's Directions EMEA in Milan, Martin quickly noticed to his shame, that he never had a woman as a guest to his podcast and decided on the spot to change this.
So it happened that Shannon agreed to become the first in – as we hope – a long line of female guests.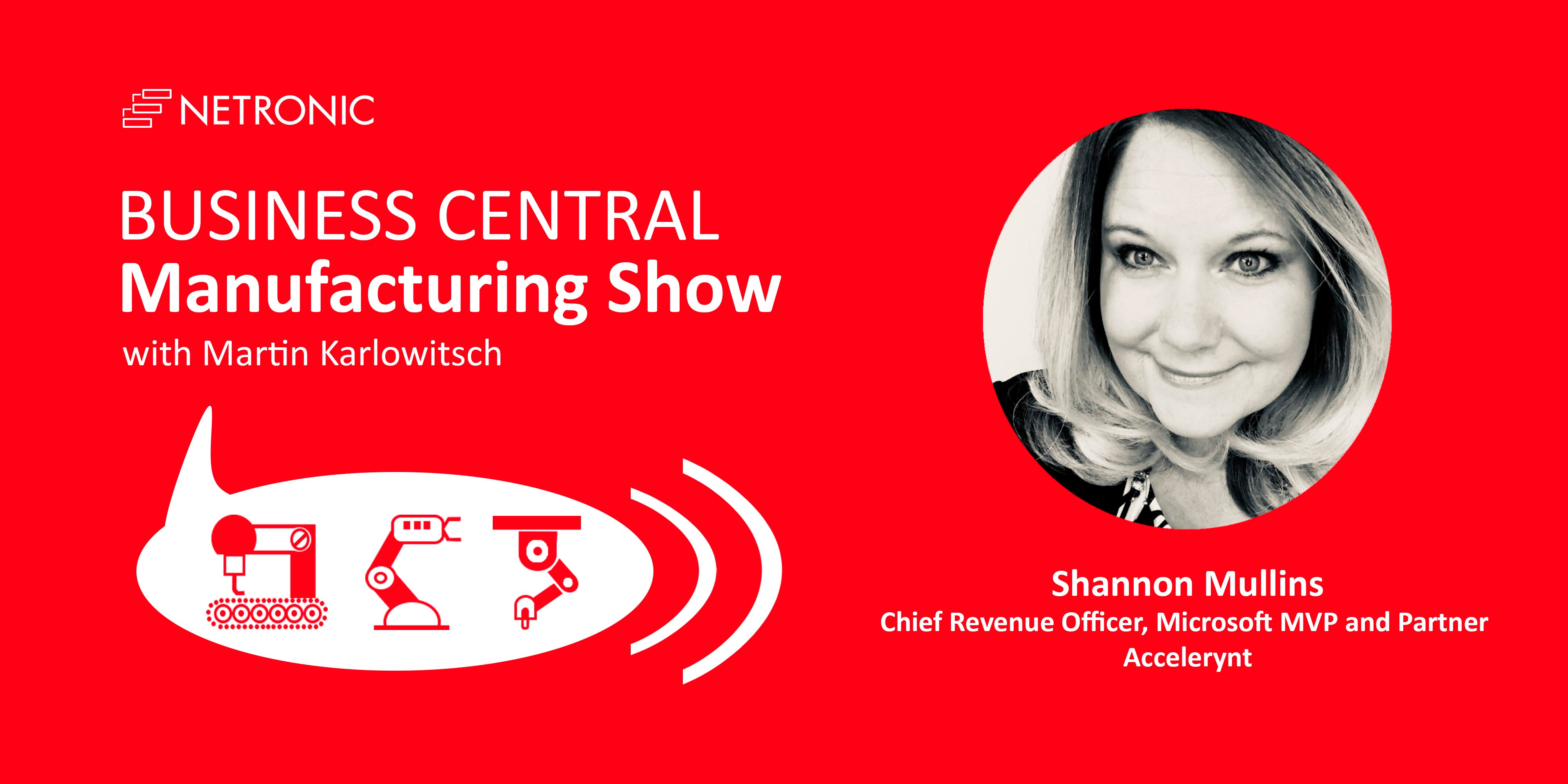 After having wondered a bit about the fact that more people from Europe visit the Directions North America than vice versa, Shannon related that some years ago, she switched into the manufacturing focus and that she liked manufacturing projects because they are a lot more complex and detailed than just a pure financial project.
Then it was straight to the main topic of the podcast: how moving to the cloud helps smooth and automate processes in Microsoft Dynamics 365 Business Central. Process improvement and automation are run by Shannon and her team by looking at how manufacturers are currently doing their processes. Then they figure out how they not only can leverage Dynamics 365 Business Central but also Power Automate, Power BI, and Power Apps so that the manufacturer gets a robust future-forward system. In short, Shannon recommends making multi-step processes into one step. Using ERP in the cloud together with the power platform leads to spending less time on development and more time on improvement in customer service, which in turn smoothes integration processes and also saves money.
The customers' reporting needs and the KPIs they want to see depend on who is consuming the reports and here one can distinguish two types: On the one hand, the very detail-oriented accountants and on the other hand people running a plant or part of the plant who are looking more at the summary level and want to have an overall picture.
Concentrating on the latter, one sees that the KPIs that are important to them very much depend on whether they are more labor-centric or more machine-centric. Of course, a manufacturer with very expensive machinery is usually more concerned about those machines being up than a customer that is very retail, who, in turn, will be more concerned about keeping delivery dates.
In this context and together with the ever more advanced automation processes, one can observe that the KPIs tend to change their nature from backward-looking into becoming forward-looking and predictive. The past approach was, for instance, that companies came to work on Monday and saw that there was a machine downtime on Friday. Then they tried to figure out why. With Business Central and the power platform, manufacturing clients now can get a real-time notification and with this can make much more real-time decisions and pivots.
Shannon and Martin agreed that with moving to the cloud, ERP has totally transformed in that data have become much more real-time and you can automate more processes. The danger associated with an increasing automation degree, of course, lies in getting rid of people.
But this is not what is intended - the purpose is rather to make people's work more meaningful and also to change the scope of their work. What's more, having everything real-time and transparent certainly increases the pressure on production leaders: Now that they have to make more informed decisions, they have to make sure they have the reporting they need. And that's where automation can come in place. Rather than sitting there and watching reports all day long and trying to figure out what's going on, they get an automated notification if something happens that they should be aware of.
This directly leads to the manage-by-exception policy which should reduce the stress. Acting on this policy, you could things just let flow as long as they are within certain thresholds, and then only send those automatic alerts in case of deviations. And then you know that now you have an exception you have to act upon.
The last minutes of the podcast were dedicated to talking about that and why so few women are represented in the Microsoft Dynamics field, and, of course, in a lot of other industries. The problem, according to Shannon, is not only that men get hired over women but also that so few women stay in the industry. To change this, Shannon thinks education and awareness is key. To improve the situation, some women in the Dynamics industry have founded the initiative "Women in Dynamics" that wants to promote diversity and inclusion as well as create more awareness and ignite a change within the international Microsoft Dynamics community.
With the promise to do a follow-up on this podcast, Shannon and Martin ended their vivid exchange.
You can tune in below 👇 or anywhere you get your podcasts.
📢

What to listen for

[04:42] Why manufacturing projects are more complex than just the financial implementation

[06:04] How customers benefit from automated processes built by using Business Central and the power platform

[08:05] ERP in the cloud: smoothes integration processes and saves money

[11:00] The KPIs that are important for typical manufacturing customers

[14:50] Backward-looking KPIs vs. forward-looking/predictive

[19:41] The purpose of automation is not to get rid of people

[21:41] Management by exception

[23:42] Initiative "Women in Dynamics" - the need of having more women in Dynamics and the role of education in this
Links to love
❤️