Michael Hering from Germany was my guest in episode #8 of the Business Central Manufacturing Show. As Industry Manager Concrete, Michael is responsible for COSMO CONSULT's products and solutions for discrete manufacturing. The conversation turned out to become a box of chocolate with manufacturing ERP best practices. We looked into a variety of aspects such as lean management and the IT required for it, artificial intelligence in manufacturing, concrete steps to make when implementing a manufacturing ERP system, and future data strategies if supply chains might become shorter again. Michael provided concrete tips & advice to not only each of these "pieces of chocolate", but to even more pieces.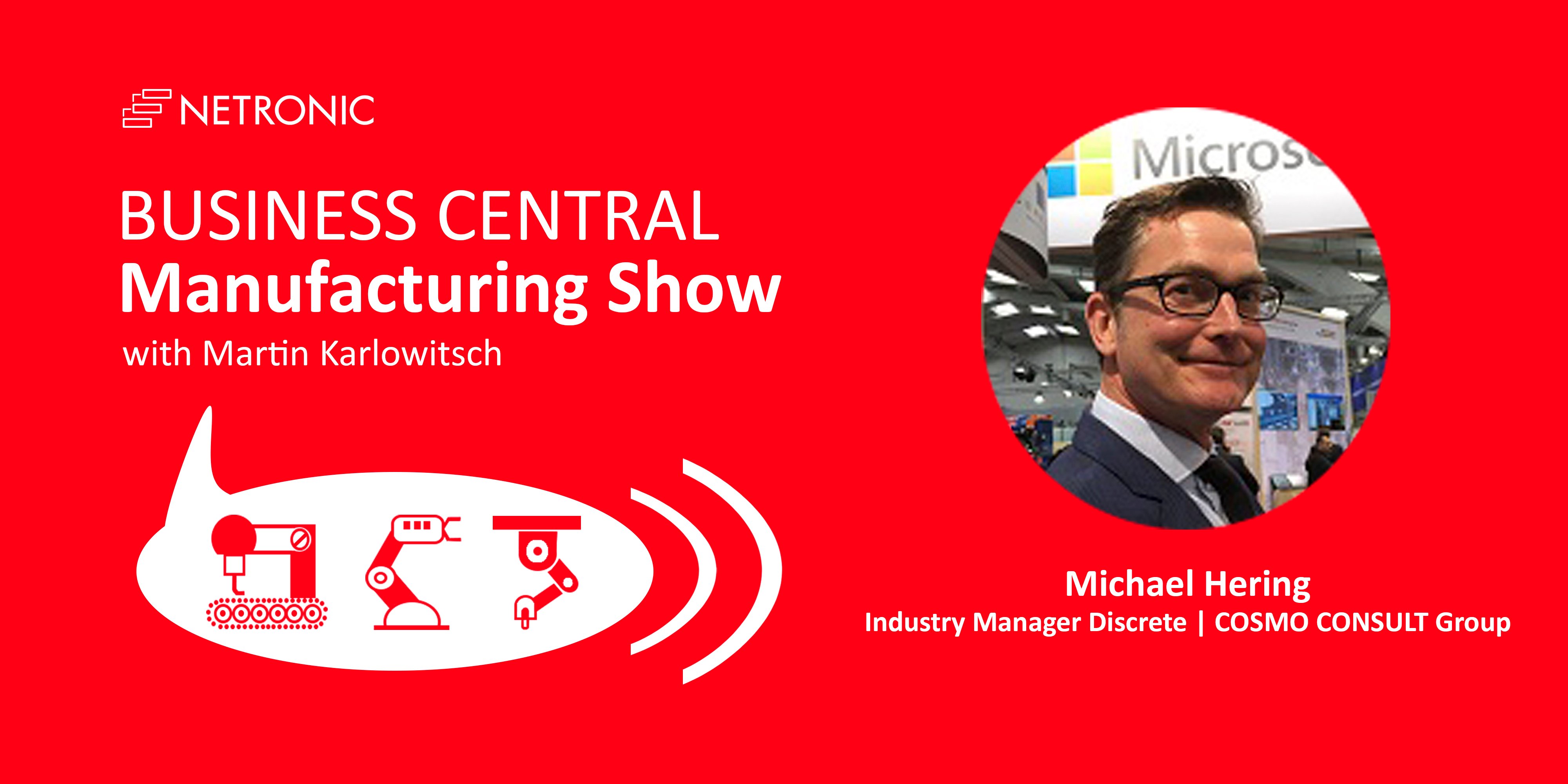 Lean management can work if it is supported by an IT system that gives power to the people (rather than to itself). Empowering means: plan to the capacity, but then let people on the shopfloor decide upon the sequence.
This kind of empowering people through IT on the one hand, and "artificial intelligence" (AI) within IT, on the other hand, must not necessarily be a contradiction. However, the most imminent use cases of AI in manufacturing seem to be in those industries with a high degree of repetitive processes. In discrete manufacturing and make-to-order environments, human intelligence and gut feeling continue to play an important role.
When it comes to AI, data quality is an important asset. However, many times, data quality is not good. The question is if this is because systems require too much data, or because people do not understand why they should maintain these data. Oftentimes, the reason is the latter and results from misleading expectations. Users expect too much from the ERP/IT system. They expect the system to solve a problem "by itself" and on the fly, but do not recognize that they need to be part of the solution.
Manufacturing companies will best achieve this when they focus on the basics and get the basics right. The danger is: if they do not get the basics right in the first place, they have to change them later. This results in people losing trust in the system, which leads to the creation of "shadow systems" that they trust.
These tailor-made (shadow) systems can be seen as natural enemies of a companies' growth. Microsoft Dynamics 365 Business Central - if implemented right - reduces the risk of creating shadow systems, without limiting the flexibility for the user.
So the essence is, and this is true for ERP systems as well as new buzzwords like AI and industry 4.0: you can regard them as a box of chocolates and should resist the temptation to eat them all. Instead, select what tastes (fits) you best and enjoy (benefit). But always start with the basics.
Once the basics are laid, you can start to look ahead (and dare a look into the crystal ball). With COVID-19, one expectation is that supply chains become shorter again. This may result in an increasing number of smaller companies working closer together. Which in turn leads to an interesting question: Will these collaborating companies share one ERP system or not? If not, the so-called common data services (yet another buzzword ;-) may be a compelling answer.
You can tune in below 👇 on Apple Podcast, Spotify, Stitcher, TuneIn, or anywhere you get your podcasts.
(I apologize for some unwanted audio effects between minute 5 and 11; we had some microphone/recording issues for some minutes when we met for the show).
On this episode, you'll learn:
How to grow a trailer making business from 30 trailers a day (per plant) to 200 trailers a day with lean management and Kanban. Of course: each trailer being custom-made.
Why a proper forecasting system, starting from the sales forecast, is crucial for implementing a Kanban process in a make-to-order environment.
That production planning should hence follow sales forecasting, and which role a very simple capacity planning method can play (using a simple rule of three).
Why lean management only can work if it is supported by an IT system that empowers people. The clue is not a decision-making system. Instead, the empowerment of the people on the shop-floor matters. A proper system grants them a certain room for maneuver plus the right to make own decisions.
That empowering people by IT and "artificial intelligence" within IT must not necessarily be a contradiction.
Why data quality is a crucial ingredient for artificial intelligence.
That companies and people should not have too high expectations on their ERP systems, and that ERP only can help master their challenges, if they contribute to the ERP ... and what this very concrete means for manufacturing in terms of getting the basics right.
Why implementing an ERP should always be seen as an opportunity for business process re-engineering (rather than bringing old processes from an old system to a new system).
That manufacturers should not get fooled by buzzwords like industry 4.0. Instead, they should look behind them, assess what they need, and follow a selective approach ... going for the basics first.
What to listen for:
[04.01] The impact of a demand-driven production system for managing variant complexity and stock levels.
[05.31] The role of IT for implementing a Kanban system.
[06.38] A super simple formula to make production planning truly hands-on.
[09.00] Why information represent the framework for a great IT system backing up a lean management process.
[12.15] Why many people have too high expectations on the ERP systems, and overlook that they need to play a crucial role for ERP systems getting able to solve the problems why they were implemented.
[13.42] The concrete first steps that manufacturing companies should take when implementing an ERP system.
[16.00] The power of Dynamics 365 Business Central to cover your processes if they change.
[19.11] Why "industry 4.0" can be regarded as a box of chocolates.
[24.30] How Microsoft's Common Data Service can help companies to collaborate while shortening supply chains.
Links to love
❤️
: