The guest in episode 26 of Martin's Business Central Manufacturing Show was Andrei Panko. Andrei is a program manager in the Business Central engineering team at the Microsoft Development Center in Copenhagen, Denmark. Having a Microsoft employee as a guest on the podcast was really a novelty. In the other episodes so far, all speakers were Business Central manufacturing experts working for a Microsoft partner. So this podcast provides most interesting insider insights into how things work in the Microsoft Business Central development team.
Andrei started working as a consultant, developer, and project manager in 2004 - back then it was Dynamics NAV, of course - and was an MVP for six years running. He has extensive field experience in the supply chain and has engaged in many other aspects of the Business Central application and platform as well. Besides, he is the author of the book "Supply Chain Management in Microsoft Dynamics NAV", which was published in 2008, and he holds a patent for metadata-driven machine learning for systems.
During their meeting before the show, he told Martin that he loves sailing and so they sailed together across the vast ocean of Business Central and manufacturing (and especially on options that users have to make Business Central even better).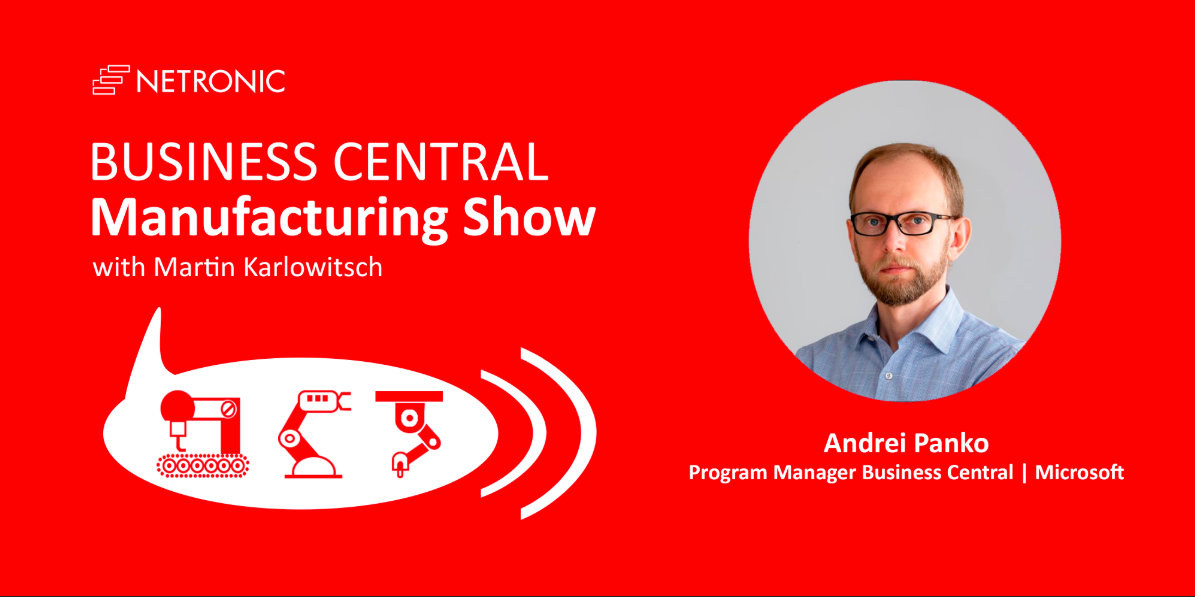 Before diving into how things happen at Microsoft, Martin first wanted to know how Andrei got into manufacturing and how it does matter to him. Andrei related that one of his first customers was a small manufacturing company that needed to improve its processes and for whom he purchased and implemented Business Central.
According to Andrei, the great strength of Business Central, even back then, was that it could be easily and flexibly modified to fit specific unique company processes. While Andrei and Martin agreed that this strength still exists, they both think that the way of creating these enhancements has changed quite a lot. In their opinion what had been real customizations in the past, now increasingly get turned into apps.
This led to a discussion about whether Business Central has become a much more core part of Microsoft's overall strategy, by e.g., providing the AppSource infrastructure or integrating it with Power Platform.
Andrei gave a short "historical" discourse from how the ERP was deployed 20 to 30 years ago to how it is done today by way of SaaS. The red thread running through this development over time is one of the core initiatives at Microsoft Business Central. The team has been helping partners reduce the number of ad-hoc developments. This not only changed the selling and deployment model of many partners but also changed the requirements for Business Central.
In order to help partners and customers reduce the number of ad-hoc developments, Business Central has become tighter integrated with the Office products, tools are now much better integrated with the overall ERP and there is much more tooling support also from the power platform.
In this context they talked about another way of reducing ad-hoc developments, namely listening to, and using the feedback they get from customers and partners. Andrei related two interesting facts:
The development teams do not receive much direct feedback from end-users and customers.

Mostly, the partners only give feedback about their own needs instead of those of the end-users, and they prefer to get tools to solve their customers' problems instead of getting solutions for these problems directly.
So, if the Business Central developers could choose how and where users and partners give their feedback to make the product better, they would ask people to
report bugs to the team properly and in detail - even if this means a bit of work - and not try to fix them on their own

use the feedback dialog popping up from time to time within the Business Central application

express their wishes and suggestions in the Business Central ideas forum
(by the way: Martin would be super happy if you vote for the idea he submitted)

join the Yammer network which is mainly intended for partners and where things like prototypes, features being currently worked on etc., are discussed. As Andrei pointed out, there are still more developers than partners in this forum, so the inflow is more technical than functional, and it would be really helpful if more consultants joined.
Martin then wanted to know how the developers decide which ideas are picked and which not and Andrei explained that on the one hand they look at how many votes an idea gets but on the other hand also the costs have to be weighed. So it may well be that an idea with less votes than another but being easier and thus cheaper to implement will be preferred over one with perhaps more votes but with an higher development effort.
According to Andrei, the developers are measured by two parameters: the monthly active users and the users' satisfaction index. If people are not happy using their ERP, they will quickly cancel their monthly subscription and so every enhancement has to be also weighed in terms of usability. The product has to be easy to learn, easy to understand and easy to start and it should help avoiding mistakes as well as facilitate fixing them.
Of course, from the economic point of view, also the partners have an important role to play here. If the product is good and easy to implement and doesn't need much maintenance, the partner cannot but recommend it to other potential customers. And the less time is needed for maintenance at existing customers, the more time the partner has for selling the product to potential new ones.
Andrei concluded that all this cannot be achieved without feedback from customers as well as partners.
The meeting ended with the promise to meet again soon.
You can tune in below 👇 or anywhere you get your podcasts.
📢

What to listen for

[02:57] The strength of Business Central

[05:21] Why Business Central has become so important for Microsoft

[15:13] The best feedback channels for partners and users of Business Central

[28:18] The parameters the developers are measured by
Links to love
❤️