Following last week's shopfloor discussion episode, here is the 28th episode of the Business Central Manufacturing Show. Again, this episode originates from our Business Central Manufacturing Exchange webinar series. It is a recorded panel discussion on warehouse challenges and solutions. I hosted this panel discussion and was excited to have Žilvinas Lapačinskas (Software Baltic), Mark Hamblin (Insight Works), and James Crowter (Clever Dynamics) as my guests.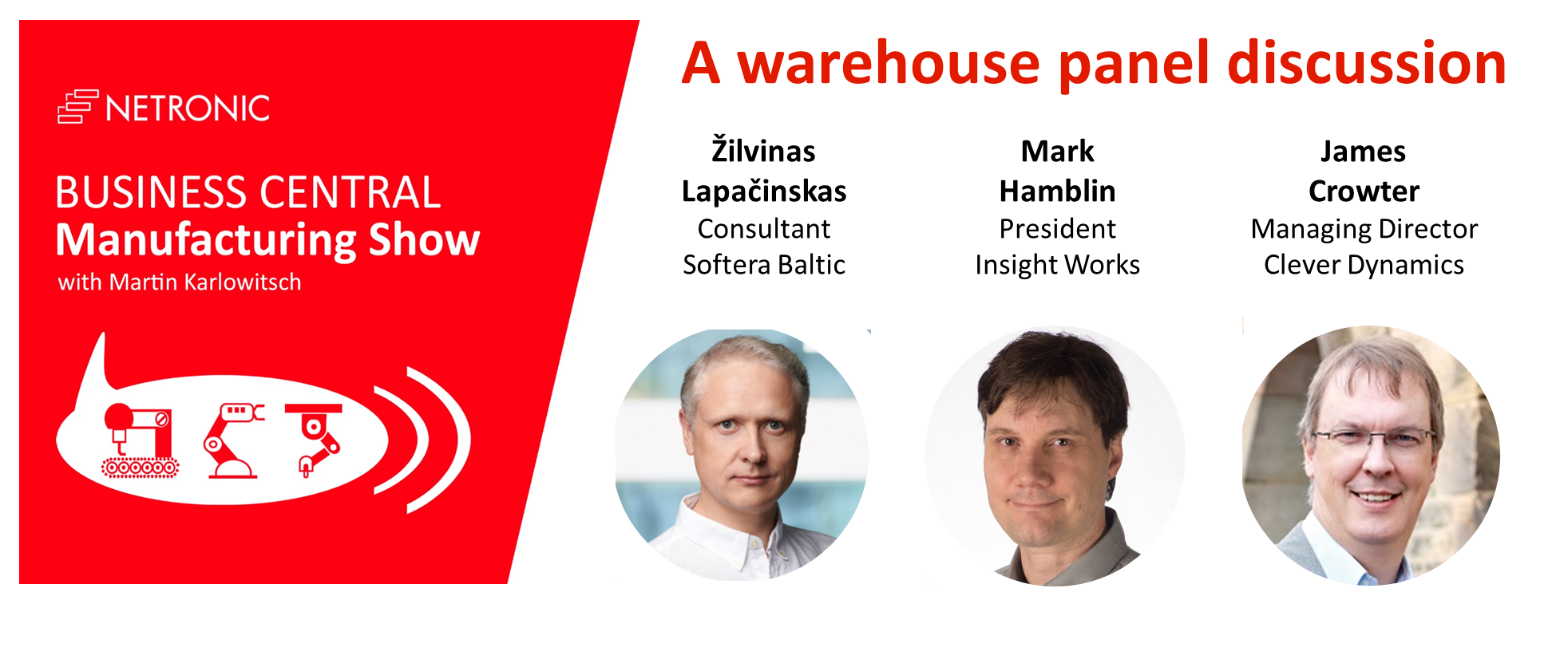 To some extent, we regard the Business Central Manufacturing Exchange as the "event frontend to Microsoft's AppSource". With the event series, we want to provide manufacturing ISVs the opportunity to showcase their AppSource apps to a broader audience.
So, last week, we ran a warehouse solutions webinar in which three warehouse ISVs presented their solutions. At the end of the webinar, I hosted a panel discussion with all three warehouse experts. Namely, these are
Žilvinas Lapačinskas is a supply chain management consultant at Softera Baltic from Lithuania. Softera is a well-known Business Central partner in the Baltics. They understand how manufacturing, commerce, and service companies work so that they can offer fitting industrial and process automation solutions.

Mark Hamblin is President of Insight Works, a Canadian-based ISV specializing in manufacturing and distribution apps for Microsoft Dynamics 365 Business Central.
James Crowter is a Microsoft MVP and the Managing Director at Clever Dynamics from the UK. Clever Dynamics provides a range of clever apps for smarter manufacturing and distribution that are seamlessly integrated with Microsoft Dynamics 365 Business Central.
I highly recommend that you not only tune into this podcast which is the recording of this panel discussion. Instead, I also recommend that you watch the recording of the entire webinar to see how Softera, Insight Works, and Clever Dynamics can help you with your warehouse challenges.


You can tune in below 👇 or anywhere you get your podcasts.
Links to love
❤️