Returning from the summer break, let me present you with episode 29 of the Business Central Manufacturing Show. Like episode 28, the warehouse discussion episode from 5 July, it originates from our Business Central Manufacturing Exchange webinar series and is a recorded panel discussion on industry vertical challenges and solutions. Our CEO Martin hosted this discussion and was excited to have Michael Bradley (PrintVis), and Adri Cardol (TO INCREASE) as his guests.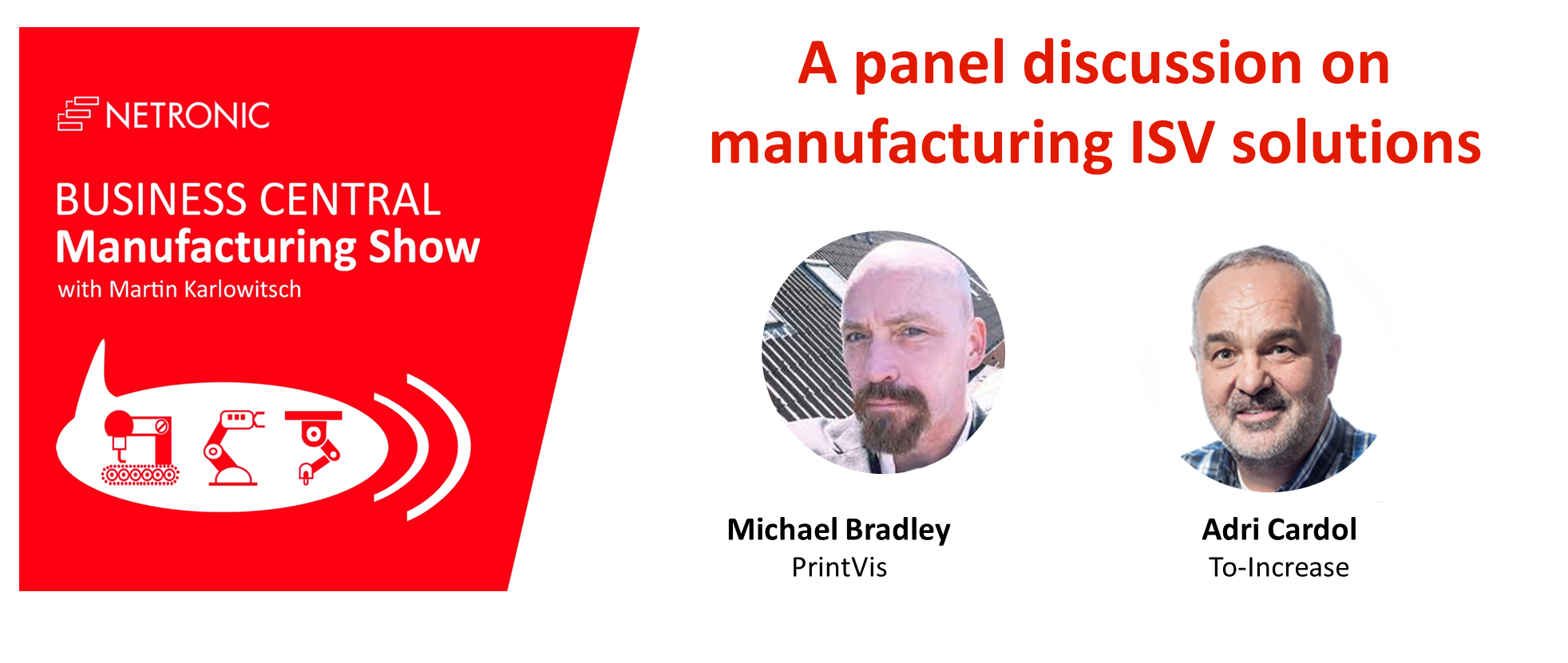 Since a bit of time has passed since the last episode, let me briefly bring you up-to-date: In June, we at NETRONIC organized an event series that we run under our "next by NETRONIC" event brand. The idea of next by NETRONIC events was to host online events in which we just play a facilitating role for having panel discussions, dive into Business Central-related topics, and avoid NETRONIC scheduling demos. Hence, the "next by NETRONIC" event brand is ideal for running an event series in which actually other ISV solutions play a key role.
To some extent, we regard the Business Central Manufacturing Exchange as the "event frontend to Microsoft's AppSource". We want to provide manufacturing ISVs the opportunity to showcase their AppSource apps to a broader audience. We - by the way - will only allow presenters that have their apps in Microsoft AppSource. With the Business Central Manufacturing Exchange, we want to make it easier for our customers and partners to find manufacturing apps that close requirement gaps ... just like our visual scheduling apps do.
So, the industry vertical solutions webinar was the last of the events and two industry vertical ISVs presented their solutions:
Michael Bradley works in pre-sales and marketing at PrintVis, USA, the Microsoft-certified Print MIS, a software solution specifically developed for the print industry which is built directly on Microsoft Dynamics 365 Business Central. Hence, Michael contributed a lot of print industry-specific knowledge to the discussion.
Adri Cardol is the Product Manager at TO-INCREASE from the Netherlands. TO-INCREASE specializes in the development, delivery, and support of industry solutions, and connectivity tools for Microsoft Dynamics NAV/BC to Microsoft Dynamics partners. We had Adri in the panel discussion to share with us details about the industrial equipment manufacturing industry.
I highly recommend that you not only tune into this podcast which is the recording of the last of the three panel discussions but to also watch the recording of the entire webinar and see how PrintVis, and TO INCREASE can help you with your industry vertical challenges.


You can tune in below 👇 or anywhere you get your podcasts.
Links to love
❤️