Our experience with hundreds of production scheduling customers from the Microsoft Dynamics 365 Business Central and Dynamics NAV market has proven very impressively that starting using an ERP system for production planning in most cases is perceived as difficult.
A lot of the ERP "beginners" come from having used the most diverse planning systems with the most diverse level of technological development, such as corkboards with tacks, whiteboards, and the famous homegrown Excel spreadsheet, to mention just a few.
To us, it seems that many people face significant difficulties in knowing where to start because ERP systems can be really overwhelming. So with this blog, we want to offer some assistance by sharing the insights we gained from our experience with our partners and customers and show what can be done to make you ready to jumpstart production scheduling in Business Central.
The blog is less about showing features and options of our visual scheduling extensions for Dynamics 365 Business Central but more about what has to be done BEFORE they are put into use.
You learn about the 6 most common errors people make when starting to manage their production scheduling with Business Central and how to avoid them.
Error #1: Putting perfection before pragmatism

One of the errors we have often seen when "newbies" starting with production scheduling in Business Central is that they want to have everything up and running perfectly right from the start. This means they are striving more for perfection than for progress.
This is, of course, understandable to some extent - who of us doesn't like perfection, after all? But - and here's the thing with production scheduling: this is really not a trivial thing to deal with. If you want to have everything perfect from the start, you will go nowhere. [oftentimes, perfection is the enemy of the good]
Our advice: Take one step after the other
If you spend your time looking for the perfect solution you will not spend your time with scheduling but with searching.
So, better be pragmatic:
a bad plan is better than no plan - at least you can learn from it
a software that meets all your requirements most likely is very expensive - and your requirements may change over the time

Error #2: Master data paralysis
The next error we keep seeing with customers/partners starting with production scheduling in Business Central is that they are too concerned for too long on their master data. If you are concerned about your master too significantly, this will prevent you from getting your scheduling activities kicked off.
Our advice: Apply a minimalistic approach
The advice on error #1 about being pragmatic instead of perfectionistic, also applies to master data: start with the minimal viable master data that you need for scheduling and grow it from there. For defining what a minimalistic approach in terms of master data for scheduling looks like, we should have a look at what scheduling means:
Production scheduling means gaining an equilibrium
With production scheduling you want to balance out things in your shop or in your customers' shops and namely you want to balance the supply of your internal resources with the demand of your internal resources. So in terms of production scheduling, you need data about the demand and supply for your internal resources as described below:
Supply of internal resources

Work centers & machine centers

Shop calendar à (minimal feasible) definition of capacity

Demand for internal resources

Production orders

Due date à (minimal feasible) definition of when
Routing à (minimal feasible) definition of demand (who, how long)
Error #3: Tool/purpose mismatch
When it comes to planning and scheduling, there are actually different purposes which, obviously, justify different types of tools and, of course, it is essential that you get this aligned. In that regard, differentiation is crucial. Hence, you should differentiate planning and scheduling by their different time horizon.
The picture below that we found (and adapted) on www.usedynamics.com helps you find what tool fits what planning horizon and then select the right tool for your planning situation.
Our advice: Define your planning horizon - different planning horizons require different tools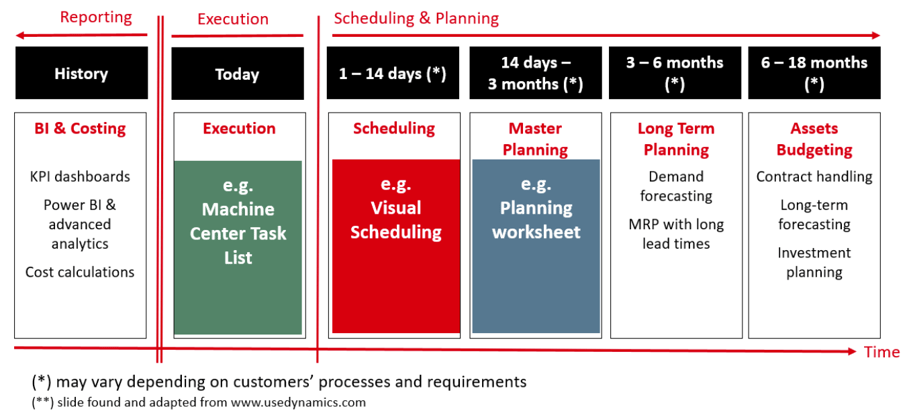 Error #4: Lack of direction
This is an error very much related to the tool/purpose mismatch.
If you are unclear about what you want to achieve with your scheduling system, you are unclear as to where you will go with it. Well, if you are unclear where you go, chances are high that you miss your goals.
The below list shows a few examples of scheduling goals. If you try making a destination board of them, you see that you get even conflicting directions.
improving delivery time commitments
improving on-time deliveries
reducing cycle time
better transparency
more shop floor agility
You and/or your customers need to be absolutely clear about what you want to achieve with the planning system, If not, you most likely will run in circuits.
Our advice: Make sure where you want to go with the scheduling software - define SMART scheduling goals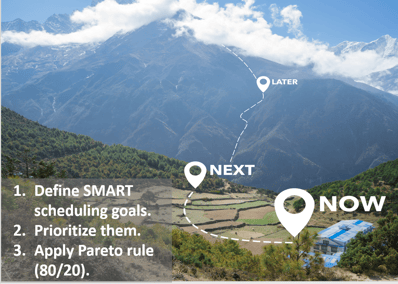 Using one tool for fulfilling all purposes at some point in time may not work, so you need to make compromises.
Determine a clear direction and a clear plan.
Hence, we advise our customers to define clear scheduling goals, make them smart, prioritize them and apply Pareto's rule.
Read more about this in Paulina's blog 5 steps to jumpstart Business Central production scheduling.
Error #5: Being oblivious to scheduling fitness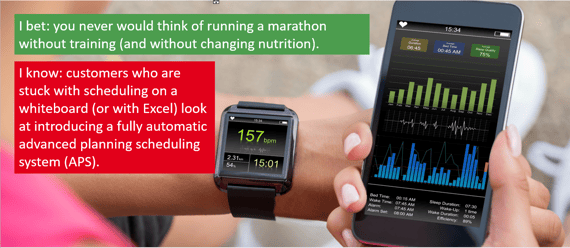 You should not ignore the fact that there is something that we call scheduling fitness.
I think we all agree that nobody would run a marathon before doing appropriate training, adjusting their nutrition, and checking somehow whether they are fit enough. Let me tell you, this also applies to scheduling fitness.
Many of our customers have come from some kind of "manual" scheduling, like using whiteboards or Excel sheets. At some point in time, they recognize that this is not enough and they want to go straight from zero to hundred.
Like with running or cycling or with any other sport, scheduling is a discipline and it needs training, constant usage, and routines.
Our advice: Be sure to rate your or your customers' scheduling fitness honestly
If you rate your or your clients' scheduling fitness wrong you might either advise or select the wrong tool. Depending on the level of scheduling fitness you can apply different tools and different methodologies.
Scheduling is not a magic pill you take or a magic button you press and everything will be solved.

Error #6: DIY mentality
A trap that people also like to fall into is thinking that scheduling is trivial.
They try to do everything on their own and this most likely will lead to not gaining the desired benefit.
Have a look at the picture below. It shows a really easy-looking schedule. Seeing this simple-looking schedule and doing some easy drag-and-drop changes could lead you to believe that you could go from, let's say, whiteboard scheduling to an advanced planning and scheduling system (APS) on the flick of a finger.
But this is a fallacy: production scheduling with an ERP is a mammoth task that requires a lot of skill and experience.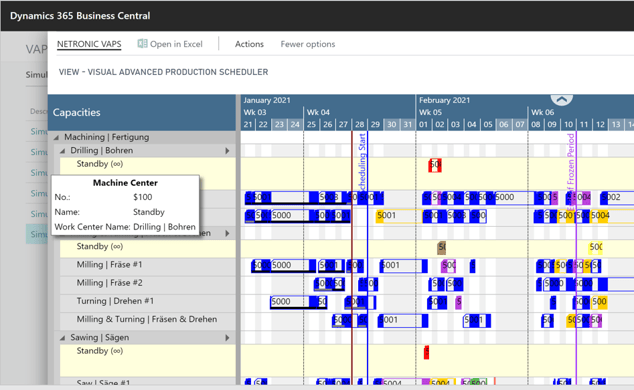 Our advice: Don't do everything on your own - let experts help you
Implementing a new scheduling process and maintaining it requires time and money - there's no way around it. So, why not let an expert help you? You could
Talk to a software vendor

Make use of an onboarding service. NETRONIC offers, for example, an onboarding service called Quick Start Package. This package is tailored to fit your needs and scheduling goals at an affordable price.
Want to learn more?
Watch webinar

How to jumpstart with Business Central production scheduling, where, in addition to a more detailed treatment of the above topics, we will show on the basis of two use cases

which of our software tools to use for different problems

.

Want to shorten your path to a perfect start with Business Central production scheduling? Talk to us software vendors for a free consultation. It all starts with a meeting. Book that meeting now :)