I met Guus Krabbenborg from The Netherlands for this episode of the Business Central Manufacturing Show. He was my first guest without a dedicated manufacturing background. However, he is a highly-experienced business trainer and consultant with a well-earned reputation in the international Microsoft Dynamics arena. He has managed and co-owned several software companies and was Sales Director for Navision Software in The Netherlands. Guus and I quickly came to the topic of digital transformation, and I learned that transformation is the hardest of the implied challenges. However, Guus didn't end up making this clear in a provocative way. Instead, he gave seven insanely concrete and practical tips of what companies can do to achieve that transformation journey. These tips are not only inspiring, but they are also hands-on and ready-to-go aka ready to get applied. Starting this Friday ;-)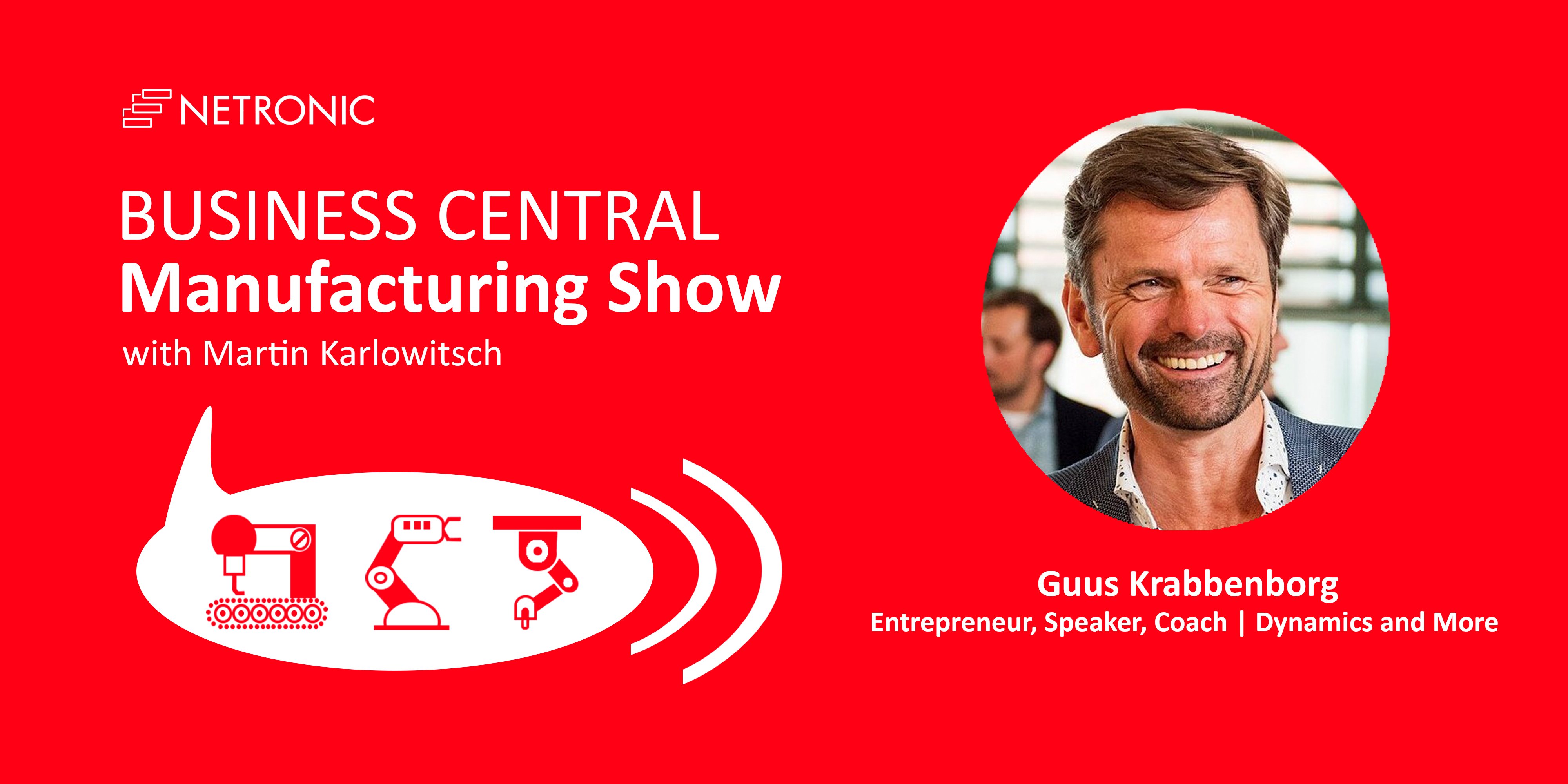 Tip #1: Your strategy should NOT equal complexity. Do not take complexity as excuse why you cannot change. Look for complexity, and take it as the reason that you should change. Ask yourself this one simple question: "If you would start your company from scratch again, would you decide to have again the same complex (outdated) processes that you have today?"
Tip #2: Put the customer first. When engaging into a "digital transformation" project, start with transforming the company. Make transformation part of your strategy. Base this strategy on what and who you want to be in the market, and put the customer first. Then look at digitization as set of tools to help you execute this strategy.
Tip #3: Measure customer satisfaction, and pay your people based on it. Measure customer satisfaction. Make a budget for actions to increase it; and say how much you want to increase it. Pay your people based on the measurable customer satisfaction achievement. Putting the customer first means putting the customer experience first.
Tip #4: Accept that it is time for change. Even if you are doing fine today, do not fool yourselves. Get out of that comfort zone that whispers you "you are doing fine, why change?". Take your energy in building the new, rather than in fighting against the change.
Tip #5: Reduce throughput times by thinking from the customer benefit. If you struggle with throughput times, rethink the entire process. Start with the benefit of the customer. Then look backwards to the steps that are necessary to deliver this benefit. Then build processes to just make this. Guus brought non-manufacturing examples. But: I like this experiment of thoughts.
Tip #6: Lead with example, but go for inclusion. Digital transformation and putting the customer first can only work if the C-level management is behind it. Not with words, but with actions. However, it only can work as well if every worker is included. Not just via execution but via bringing in own ideas and own inspirations. And by the way: if ideas come from the workforce, you do not need to convince them ;-)
Tip #7: Pick up the phone and call churned customers. Every business loses customers. Nobody seems to ask customers why they decided to leave. Change this. Pick up the phone and call them. Make this a top management task (and listen to the podcast to get a bunch of concrete questions you should ask).
You can tune in below 👇 on Apple Podcast, Spotify, Stitcher, TuneIn or anywhere you get your podcasts.
On this episode, you'll learn:
Why - despite all the bad things happening with COVID-19 - the pandemic can bring a boost to digital transformation: it reveals in a transparent manner the dark side of the internal complexities organizations built.
That digital transformation has two words: digital, and transformation. And that "becoming digital" is the easy part of the journey, while transformation being the hard part.
That digitization means change. But is more change than switching from analog to digital. It is switching to putting customers first.
Why it makes a big difference if you pay your people on revenue targets, or on customer satisfaction.
That customer satisfaction has become even more important as customers do not tend to complain anymore. They just change suppliers.
Why it is a big risk for companies if they just do not accept the fact that they need to change.
That digital transformation neither is top-down nor bottom-up. It is both ways.
Why the number one step to make is to pick up the phone and call churned customers.
What to listen for:
[02.39] If your strategy is not "to be complex", then do not hide behind your complexity. Change it.
[04.55] Think of the concept to have "transformation" on your item list. Can you buy "100 seats of transformation" from your vendor?
[08.00] Reasons why customers often are not put first today.
[10.03] How a compensation model could work which puts customer satisfaction first.
[13.23] For today's customers, product specifications, product quality and product prices often are less important than customer experience.
[16.10] A great example, how the Dutch tax agency (hence: a governmental organization!) has transformed by thinking from outside-in, rather than inside-out.
[18.08] How you can re-organize a company (and decrease throughput times) by thinking processes from the customers.
[23.19] Why transformation ideas from the workforce are extremely powerful, and have a high likelihood to succeed.
[25.00] Concrete questions a business owner can ask customers who decided to leave.
Links to love
❤️
: