Just in time for Christmas we can present you with the release of version 1.4 of the Visual Advanced Production Scheduler (VAPS), the only available finite capacity scheduler that fully integrates with the manufacturing module of Microsoft Dynamics 365 Business Central.
As always, the complete release information can be found in the respective release notes. Moreover, the new version will be available in AppSource soon.
Now, make yourself comfortable, have some Christmas cookies and enjoy reading about the new features ;-).
#1Change operations that have already been started
Up to now, operations that had already been started, i.e. operations having postings already, couldn't get changed in the visual planning board. Now, we have implemented the new context menu item "Change Started Operation":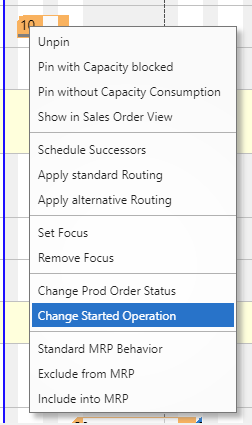 Once you have ticked this option for your already started operation,
the operation gets a red frame:

the following changes can be carried out:



You can move the operation to another point in time and/or another machine center. In both cases, the following dialog pops up:



Here you can decide whether you want to schedule the operation at the new date and/or place with the remaining quantity or virtually start anew with the originial quantity. A possible scenario for this could be that a machine broke down and the already produced items are defective.

You can change the duration of the operation


#2 Show/hide the notifications window
When simulations get outdated or invalidated, e.g., when you add or delete production orders, the VAPS shows a notification window, informing you about this:

Some of our customers, however, didn't want to have this notification window to be shown and so we implemented a new option in the VAPS Setup dialog where you can switch on/off this window.



#3 Custom fields
In addition to the default fields available in tooltip, label and table text it is possible now to equip custom fields with data to use them in tooltip, bar label and table text.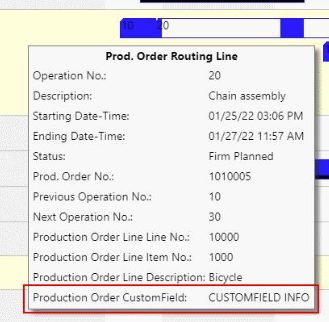 Please find a detailed description in the related Knowledge Base article.
#4 Appearance options for a better overview
Especially when it comes to working with really big plans, you'll always struggle with the size of display. For those cases, we added the new section "Appearance" to the "Settings" dialog where you can specify
the

zoom factor

in %
the layout: In the "Compact" layout, the display is reduced as much as possible to

provide a better overview, especially with large plans.
Want to have some examples?


Standard layout, zoom factor 100 %: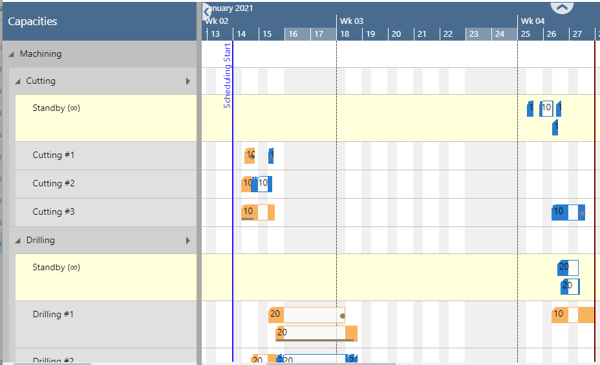 Compact layout, zoom factor 100 %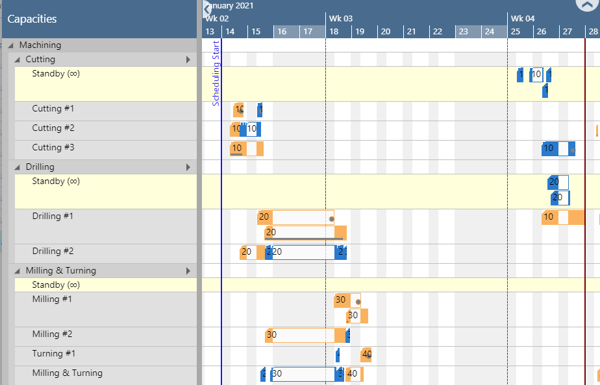 Standard view, zoom factor 80 %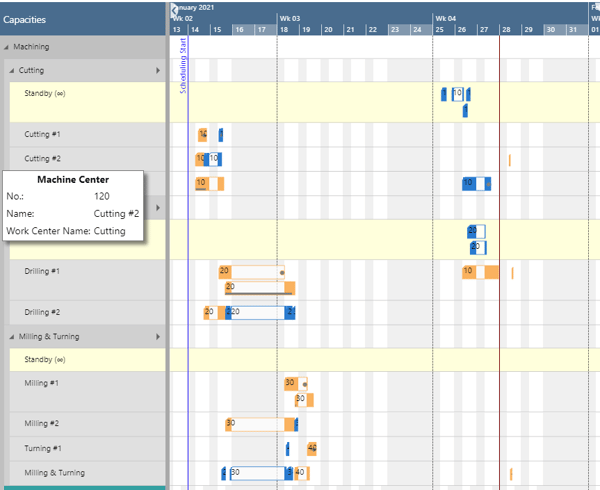 # 5 Enhancements of search functionality
The search functionality for both views was enhanced :
In the Capacity View, users can now also search for production order lines.
In the Sales Order View, users can now also search for sales item lines ..
#6 Smarter calculation of capacity curve
Due to a smarter calculation of the capacity curve we gained considerable loading and interaction performance improvements.
#7 Support of alternative connection to Base App from Microsoft
Some of our customers have changed the Microsoft Base Application according to their individual needs. This, however, entailed that our extensions could not be installed any more. So we set to work to also support these customers and with the current release we offer a version of the VAPS that also runs with an alternative connection to the Base App. Please note that this version requires Microsoft Dynamics 365 Business Central 16.4 and higher.
That's it for today, I hope you'll enjoy the new functions and enhancements. Moreover, I'd like to thank you for your attention during the last year and wish you and your families a Merry Christmas and a healthy and successful New Year!
Want to take a deeper dive into the VAPS?