Attending conferences is one of the perks I value the most about the industry. It's at times like these that I get the opportunity to connect with like-minded professionals, learn more about Business Central, showcase our extensions, and of course, travel.
Last year, as I was about to register as an attendee for DynamicsCon Live 2022, one of my cousins announced her wedding date. Murphy's Law happened: it was the same weekend. After some internal delivery, we decided to postpone our tryout for this event and do it "better". As in, as sponsors.
So this year, we signed up for a Gold Sponsorship at the highly anticipated DynamicsCon 2023 held in beautiful Scottsdale. And again, Murphy's Law happened: Days of Knowledge was organized for the same week. That left me with a team of one. In this blog post, I want to share my journey and highlight the valuable experiences I had during this event
This is the first time I have participated in a mid-size customer-oriented conference. So here I go:
Immersive Learning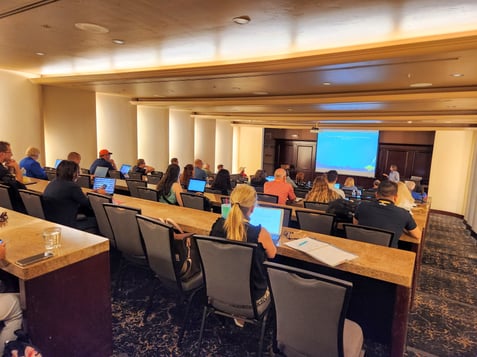 DynamicsCon Live proved to be an immersive learning experience right from the start. The diverse range of sessions and workshops covered various topics related to Microsoft Dynamics and its ecosystem.
As a solo sponsor, I had to choose wisely which sessions to attend to not leave the booth unattended for long. Despite this, I still got the chance to deepen my understanding of the features, best practices, and industry insights. The speakers were industry experts who shared their knowledge generously, providing practical tips and strategies that I could immediately apply to my customers.
Showcasing Our Solutions
As a sponsor, DynamicsCon gave us a unique platform to showcase our solutions to a highly targeted audience. Our booth attracted attendees who were eager to overcome their scheduling challenges. As an ice breaker, I made big bingo cards that listed challenges my customers have mentioned as what they wish to fix.
I'd explain what the bingo was for and hand the customers a pile of magnets, they threw them one by one and waited for them to snap into place before accepting their next headache. This activity helped me connect with the customers while qualifying them and provided me with insights for our next steps.
It impressed me to see the event's seamless integration of virtual and in-person experiences. DynamicsCon organized an inclusive environment, allowing attendees from around the world to participate and engage with sponsors like us. This innovative approach broadened our reach and connected us with a diverse group of professionals who were eager to explore new solutions.
Networking
One aspect that truly stood out was the emphasis on networking. DynamicsCon was big enough to hold various attendees but cozy enough to feel comfortable asking questions at sessions. It provided ample opportunities for attendees to connect with other professionals, exchange ideas, and forge new partnerships. Most conversations were enriching, and I left with valuable contacts and potential collaborations. On a side note, I was pleased to see the demographics of Microsoft events undergo a remarkable transformation, a.k.a. there are more women and a younger crowd now. This shift has brought fresh and vibrant energy to the community. Diversity may be on the scope soon.
It is inspiring to witness more women and young people taking an active interest in the industry, as well as partners embracing opportunities for teaching, learning, networking, and contributing their unique perspectives. I'm overjoyed to say I didn't leave with business cards only but also, WhatsApp numbers, Insta handles, and personal invites.
Key Takeaways and Future Opportunities
Attending DynamicsCon 2023 was an incredible opportunity. Attending on my own was another level. I can't deny I'm pleased to see my pipeline pumping. Looking ahead, I am excited about the possibilities that have emerged as a result of this event. The connections we made and the feedback I received will help us refine our solutions and better serve the Dynamics community. I am confident to say the relationships forged at DynamicsCon will continue to evolve into fruitful collaborations and partnerships.
DynamicsCon 2023 in Scottsdale exceeded my expectations. As a first-time attendee and sponsor, I gained valuable knowledge, expanded my professional network, and had the chance to opportunity to showcase our solutions for manufacturing planners, project managers, and Business Central consultants. I appreciate the organizers' hard work in creating an exceptional event.
If you missed DynamicsCon 2023, I highly recommend marking your calendar for next year's event. I know I'm waiting for it already.
See you at Summit in October!
Sincerely,
Paulina