In episode 34 of his podcast, Martin welcomed José Miguel Azevedo, a Microsoft Dynamics 365 Business Central Senior Solution Architect with KPMG in the UK, one of the BIG4 consulting companies. José has more than 24 years of experience with different ERPs, ranging from SAP and Oracle to Dynamics 365 Business Central, his focus areas being Navision and Business Central, where he held various roles in consulting, like business consultant, functional consultant, project manager, program manager, etc. He has worked in companies of all sizes and with clients from the fashion, food, pharmaceutical, manufacturing, and services industries. Although Jose admitted that speaking foreign languages is not big fun for him, he dared to move to and work in London and join Martin for the podcast.
(Comment from Martin: The conversation was absolutely brilliant. Unfortunately, we experienced some sound issues when recording. However, I decided to publish this episode nevertheless. The content will more than compensate for the poor audio quality.)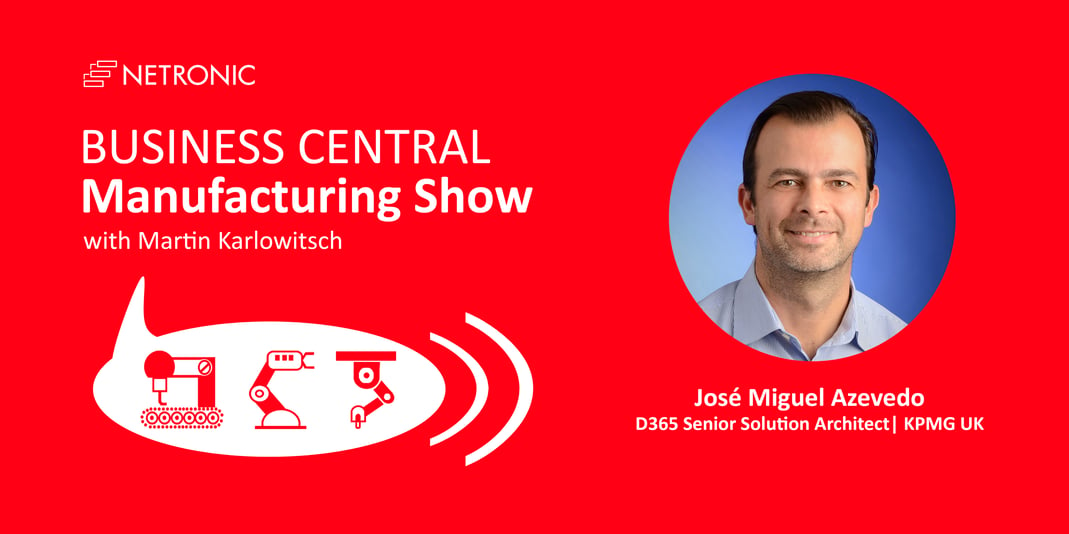 They kicked off their conversation by delving into José's personal journey, highlighting his move from Portugal to London. José's decision to leave his comfort zone and embrace new opportunities at KPMG underscores his passion for manufacturing. He emphasized that the industry resonates with him due to its dynamic challenges and the need for out-of-the-box thinking.
Martin and José explored the essential tools and strategies for successfully implementing Business Central in manufacturing, and José stressed the importance of identifying whether a company is make-to-order or make-to-stock and tailoring the approach accordingly. According to him, simplicity is critical for setting up Bill of Materials (BOM) structures and utilizing lead times to aid Material Requirements Planning (MRP) and Available to Promise (ATP) calculations.
When discussing Capable to Promise (CTP), José outlined that while it's a powerful tool, it should be introduced only after establishing a solid data foundation. He pointed out that most manufacturing companies already possess historical experience and can set lead times and workarounds at the item level to provide customers with realistic delivery dates.
The conversation wrapped up with a focus on the significance of relationships in the manufacturing sector. José recalled his challenging implementations, noting that successful projects were marked by solid professional relationships. Both Martin and José agreed that while technology is an enabler, the people behind it genuinely drive success.
Despite both admitting they're not particularly language-oriented, they exchanged friendly banter about Martin learning some basic Portuguese before meeting at Directions EMEA in Lyon. José ended the podcast by expressing gratitude for the conversation and the opportunity to share his insights.
You can tune in below 👇 or anywhere you get your podcasts.
📢

What to listen for

[6:23] Why José loves Business Central and manufacturing

[10:48] Jose´s best practices for implementing Business Central in manufacturing companies

[15:50] The importance of keeping the BOM levels lean

[17:07] The differences in dealing with make-to-order and make-to-stock companies

[19:20] Typical tools recommended for make-to-order customers

[22:12] When to use Capable-To-Promise and when Available-To-Promise

[25:50] How customers get realistic delivery times without implementing CTP
Links to love
❤️