Have you already been waiting for our November release of the Visual Production Scheduler? This waiting has come to an end - I proudly present the new VPS features "hot off the press".
And as always, you will read about the new Visual Jobs Scheduler in a few days.
#1 Two new filter options
The "Filter"section of the "Setup" dialog was enhanced by two new options making the usage of filters still more easy and comfortable.
You can determine whether the "Data filter" dialog comes up on starting the VPS or not. Please note that if you decide to not have it shown, the last selected data filter will be activated.
The last selected view filter can be applied when the VPS is started.

#2 Show links between Production Order Lines
You can decide now whether you want dependencies to be illustrated by links in production orders with more than one production order lines or not. Tick or untick the new option in the "General" section of the "Setup" dialog:

#3 Schedule predecessors/successors
The context menu offers the according new option now. Click the respective item if moving an operation shall also affect its linked preceding and/or succeeding operations to the effect that they are moved accordingly.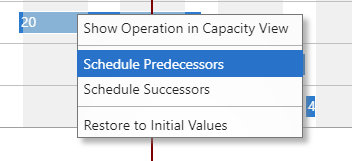 Please note that if you want these links to be taken into account for scheduling, tick the Schedule across Production Order Lines option in the "Scheduling" section.

#4 Restore to initial values
The new context menu item "Restore to initial values" allows you to restore the original values of the selected operation in case you have not yet saved your modifications.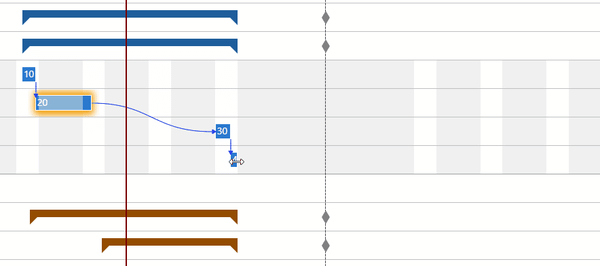 #5 Update line
A new date line in both views now indicates the time when your plan was last updated.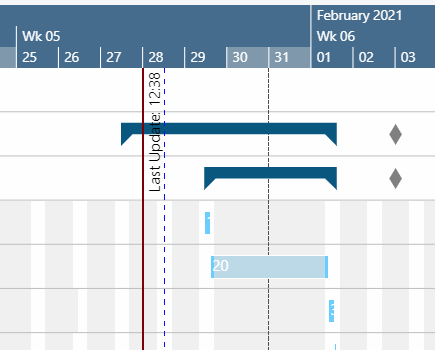 #6 Capacity calculation by either day, week, or month
The capacity curve combines information on a resource's allocation and its availability. If, for instance, a task's duration is 10 hours, the capacity curve of a resource with an availability of 8 hours/day shows an overload - if it is calculated per day. In many cases, the planner regards a resource's availability by week or even by month. That is why the VPS lets you select wether you do the capacity calculation either by day, week or month. The curve will aggregate the occupancy on the selected period.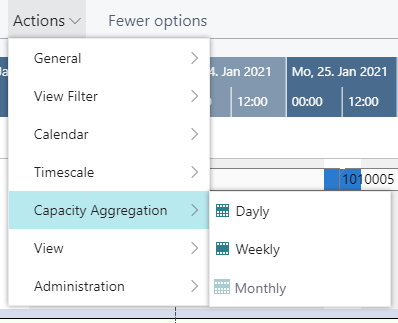 #7 Check for purchase orders when scheduling an operation
If an operation of a released production order having a purchase order gets moved, a warning message occurs letting you decide whether to move the operation or not.

Moving such an operation in the Capacity View is not possible and trying it will trigger another warning message:

#8 Visualize zero setup and runtime
Sometimes there will be operations that don't occupy any capacity, e.g. drying phases. Such operations will be visualized now in the Capacity View by a vertical line so that you can still see that something's going on there but not using any capacity.

So, this was our VPS news of November - I hope you enjoyed reading. And don't forget to watch out for the blog about the November release of the VJS for Dynamics 365 Business Central.
More information