A new version of VARCHART JGantt, our Java Gantt control for creating interactive Gantt charts, has been released as of 26 August, 2016. The control now offers two major new features and a new sample, all being introduced in this blog post. Read below what we've come up with.
Customizable legend
The legend in our Java Gantt chart component can now be equipped with text or graphics as desired. This allows to display legends also for objects that are not of the type layer or link.

The screenshot above shows a legend for a calendar grid, the different colors indicating different workfree periods or holidays.
Link design options
Due to the new design options for links, your chart will gain even more clarity:
Different colors indicate different link types


Changing of direction of links (bend style) are displayed either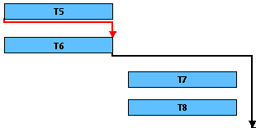 as slant

round

New Sample
The samples browser was enhanced by the sample TrueTypeLinks, featuring the new link design options:
The different link types are indicated by different colors and the desired bend style can be selected by clicking the corresponding radio button.
The links' start and end point can be recognized at a glance.
By clicking on a node you can see its predecessor, successor or full chain depending on your selection under "After click on node show:".
Clicking the button "Show link legend" will show/hide the new link legend.

Your next step
Want to see the new features in action? Download your free trial version of VARCHART JGantt and get going today.
Want to get more detailed information on selected VARCHART JGantt features? Read our blogpost about how to use auxiliary lines for exactly positioning bars.