We continue our podcast, where we left off last time, somewhere in the US. From the Atlantic coast in Florida, we now go to Madison, Wisconsin (virtually) for our next guest, Kevin Fons. Kevin has been working in the manufacturing industry for 30 years and with Dynamics NAV, Dynamics 365 Business Central, and ISV add-ons for about 16 years. Today he is a Senior Applications Consultant for Innovia, where he leads various NAV & Business Central projects for a wide array of customers.
Starting from the general value manufacturing ERP data can have for customers, the conversation became very specific rapidly. Kevin and Martin dived down into the concrete topic of routings and that they need to serve two purposes: costing and scheduling.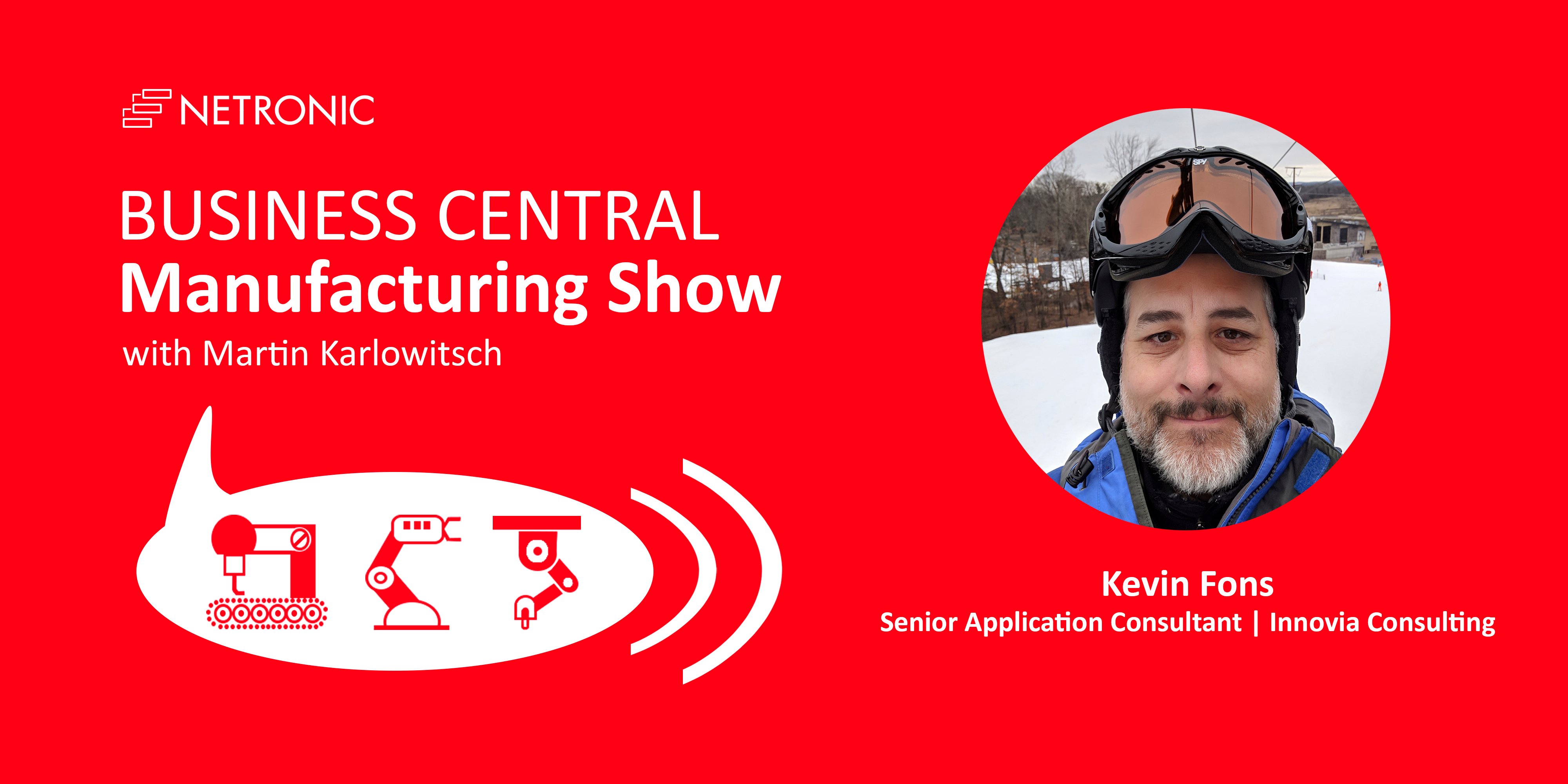 Kevin starts with his early experiences with the manufacturing industry and how that eventually led him to work with Dynamics NAV. For him, Dynamics NAV / Business Central is a great tool for collecting data to identify underlying issues in customers' processes.
An interesting insight that Kevin brought to the discussion was his observation of companies having this vast amount of data on their ERP system and not (fully) knowing what to do with it because they get stuck in their day to day tasks. He believes that paying more attention to data that's already there could be a game-changer for the company especially in terms of improving their internal processes.
From there, we drilled down and spoke about how and why companies create routings in their ERP system. Kevin pointed out that routings often are used as a costing tool. With that purpose in mind, companies often run danger to represent reality as much as possible, especially the machine capacity. This then can become hard to handle if people and their flexibility need to get taken into the equation, for example, people switching between different work centers.
Obviously, a discussion about manufacturing is incomplete without dabbling on planning and scheduling. Kevin explained it simply as – planning is done with the MRP, where you match supply and demand. Planning and scheduling look the same until people start scheduling on the floor. To him, scheduling means being able to take the plan and move things to change times, machines and sequences. By doing so, you can optimize capacity or prioritize orders.
Optimizing capacity isn't always easy. It goes hand in hand with managing one's inventory. Of which Kevin refers to as being a continuous balancing act. You need to have enough capacity but at the same time have enough inventory to remain flexible in terms of producing what you need. He believes that you should only schedule up to 80% of your total capacity to remain flexible.
Kevin leaves us with two more tips:
Keep your routings and BOMs simple. By keeping your routings simple, they are easily understood by the people on the shop floor
If you educate your workforce in understanding the big picture of the supply chain, specifically what happens before and after the operations of their respective departments, it makes the whole operation more cohesive.
You can tune in below 👇 on Apple Podcast, Spotify, Stitcher, TuneIn, or anywhere you get your podcasts.
In this episode, you will learn:
What makes Business Central such a great tool especially in terms of capturing data and how that could help your business
Maximizing the data that you get from your ERP system for costing and process improvement
The realities we face when trying to imitate what happens on the shop floor with our routings
The meaning of scheduling and differentiating scheduling from planning
The continuous balancing act in terms of having enough capacity and the right amount of inventory
Simplified BOMs and routings can spell the difference on the shop floor
The importance of everyone in the supply chain seeing and understanding the big picture
What to listen for:
[1:35] Kevin's early affiliation and interest in manufacturing
[4:00] How Kevin got acquainted with Dynamics NAV [5:30]
How companies are not maximizing the data they get from their ERP systems
[7:30] How ERP routings represent reality (or not)
[14:15] Business Central planning vs. scheduling
[17:15] Evolving customer expectation of the supply chain
[19:00] Balancing capacity and inventory
[21:15] Working with local suppliers and Kanban cards to manage lead time
[24:00] Kevin's very useful tips for manufacturing companies
Links to love
❤️
: