What are the "basic functions" a graphic planning table for use in manufacturing companies need to offer to convey meaningful information and support the decision maker and production planner in the best possible way? In our previous blog post you learned about three key features: Switching views for different planning perspectives, flexible resolution of timescale and multi-level grouping visualization. Here comes blog post #2, presenting three further functions an effective production planning table should offer.
Histogram for displaying capacities
Optimizing the machines´ capacity utilization is one of the key challenges in production planning, so that visualizing the machine load in a capacity graph ("histogram") is definitely a must have. Bottlenecks as well as unused resources can be recognized immediately and our live-update function is the perfect tool for rescheduling resources. The effects of a mouse interaction are being visualized immediately during the operation and not only upon ending it. Every mouse movement results in updating the node, the consequences of the interaction for the overall planning becoming visible in the histogram at once so that the planner can quickly find the new optimum position for the job respectively the resource.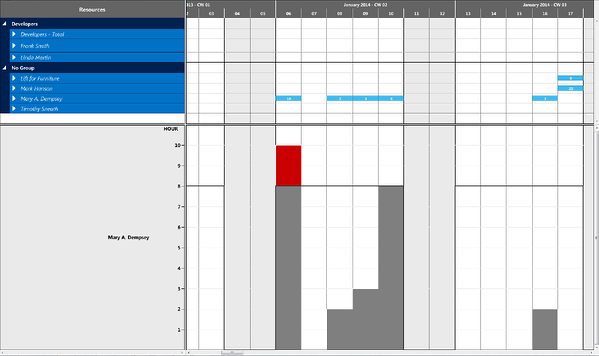 Visualization of dependencies
If multi-level production is concerned it will not do to plan the single operation only. It´s important to know the effects the modification will have on the succeeding and the preceeding operations. Recognize and plan interlinked operations or order networks by making links visible. Reschedule successors automatically if a predecessor has been moved.

Visual alerts
Visual alerts translate your business rules into the planning board and thus bring them to the planner's attention. They are the "soul" of visual planning. Use data-driven visualization and send signals to warn the planner if there´s a risk of not keeping a delivery date, if operations on machines could overlap or if rescheduling violates the sequences of operations.

Tip: Read also our blog post about visual alerts.
This is a series of three blog posts about important graphical functions of planning tables. Subscribe to our blog to stay informed as #3 is coming soon.
Are you developing a planning and scheduling application? Download our checklist that provides you with 33 questions which we recommend to answer before starting the development. From developing Gantt chart software for more than 30 years, we have learned a few things about Gantt charts that users love :-)
For your reference: all posts from this series
Post 1: Which Graphical Functions Should a Production Planning Table Offer? (switching views, timescale, groups)
Post 2: Graphical Functions a Production Planning Table Should Offer (Histogram, visual alerts, dependencies)
Post 3: Graphical Functions a Visual Planning Board Should Have (calendar, interaction, automatic scheduling,)