Last week, Martin hosted the webinar "Combined machine and manpower-related scheduling with finite capacity". In this webinar, he showed how to tackle the challenge of scheduling machine-bound and manual work with one tool, the Visual Advanced Production Scheduler (VAPS), that combines machine and manpower-related scheduling with finite capacity.
Read this blog to get a written wrap-up of the webinar with links to the respective minute of the presentation.
Many manufacturing companies working with Microsoft Dynamics 365 Business Central seem to have a common challenge.
One part of their processes is bound to machines and the finite capacity of these machines. Typically, they can produce just one production order at a time on these machines. The machines thus are set up as machine centers in Business Central; mostly with a capacity of 1.

The other part is dominated by manual work such as assembly, welding, or quality control - just to name a few. In these work areas, scheduling oftentimes does not happen down to the individual head. Instead, work is assigned to the entire e.g. assembly group and the aggregated group capacity gets managed. These manpower-related work cells typically are set up as work centers in Business Central; mostly with a finite capacity larger than 1.
Expectation settings [min 3:51]
After some preliminary words, Martin introduced his topic by stating that it originates from a frequently asked question: customers often want to know how to set up their production scheduling with finite capacity when they need to combine machine work with "manpower-related" work.
He then pointed out that one needs to differentiate between two different cases, illustrated by the picture below:
Discussing case 2: schedule both machine work AND manual work [min 9:06]
Since case 1 is not supported by Business Central and - yet - neither by the VAPS, Martin went on explaining that the webinar hence focuses on case 2 (and he promised that case 1 is on our list of ideas for next year).
He started by outlining the typical phases in machining/fabrication vs manual work and their impact on scheduling and posting:

Recommended settings [min 17:22]
In this section, Martin described and explained the settings that are needed both in Business Central and in the VAPS to carry out the described scheduling case successfully. Again, I'd like to illustrate these settings with a picture, because - as we all know - a picture is worth a thousand words ;-).

Recommendations put into practice [min 23:13]
Switching to the live environment, Martin showed where and how to make the recommended settings. For the sample case of the webinar, Martin had created 4 major work center groups with according work centers. Martin also had some assembly and quality control workers set up as machine centers. He let their capacity roll up in the work centers with the consolidated calendar switched on.
Production, with the work centers:

Turning
Sawing
Gear Cutting
Milling

Assembly, with the work centers:

Assembly - Team 1
Assembly - Team2

Finishing, with the work center:
Subcontracting, with the work center:
The capacities were defined in such a way that the machine numbers start with an M, the workers with WO:



In the routings, all manual work steps got assigned to the work center. In the example shown below, we have defined concurrent capacities of 2 for work center "Assembly - Team 2" so that two people can work on this specific item. What is more, in the column "Alternate Routing Set" that is part of the VAPS, you can define alternative machine/work centers, which can help you to set up your schedule much more efficiently.

Martin then showed how all his settings look like when they are put into action in the live environment of the VAPS.


Production orders are assigned to the machines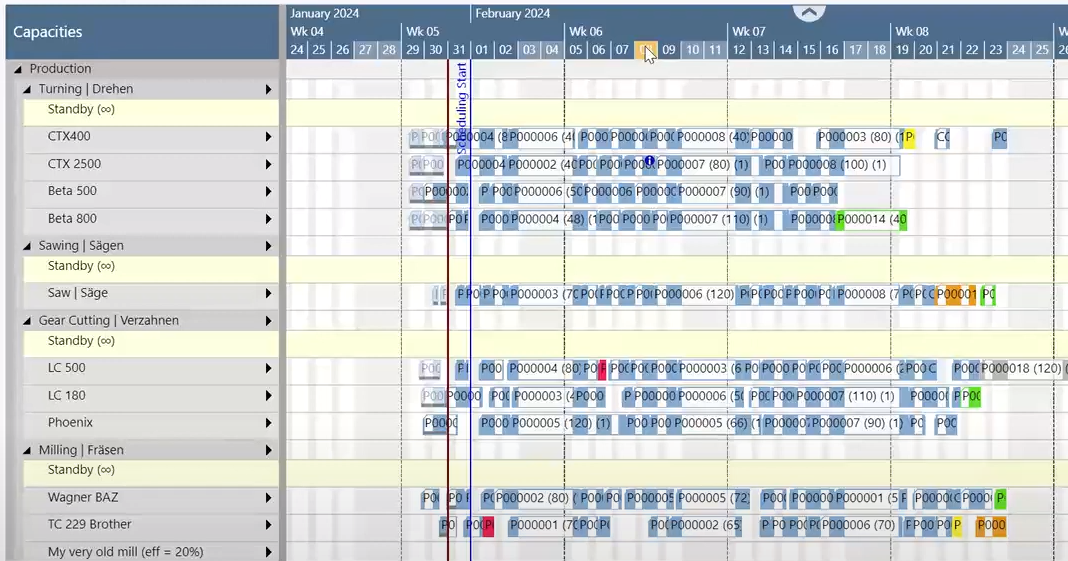 The manual work gets assigned to the team as a whole instead of to the individual employee (the workers are not shown because they got filtered out by the BaseView filter)


How to deal with changing capacities (downtime/uptime) [min 39:07]
A question of great interest for all planners is what happens in cases of a machine breakdown or a staff member being on vacation, etc. Martin's recommendation here is to create down- or uptimes via the according VAPS context menu which is much faster and more comfortable than in BC. We have summarized your options in the picture below:

In the following live demo part Martin showed how to realize the recommended settings of up- and downtimes in the VAPS.
Click the according item from the operation's context menu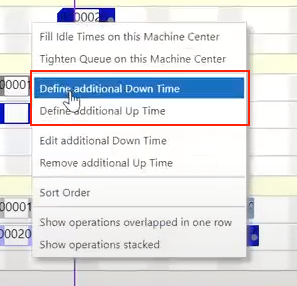 Define the desired times on the "Calendar Change" card: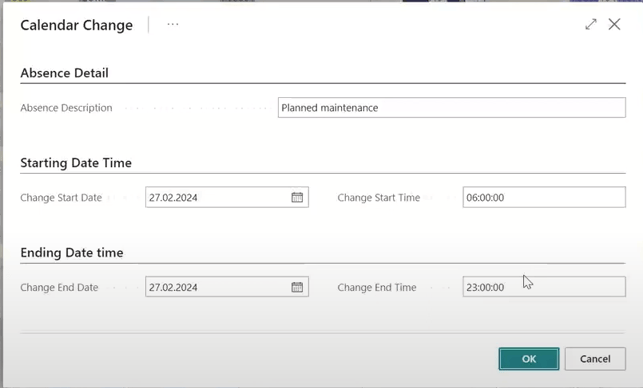 As a result, downtimes appear as red rectangles in the plan, the tooltip providing more information: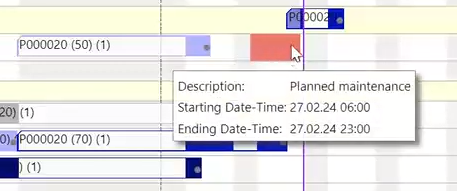 Uptimes are displayed in green: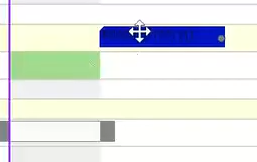 Of course, these up- and downtimes are written back to BC:

The same procedure is used for man-power related work - either for the whole team or just for one person. If you create up- and downtimes for one team member only, please remember to remove the BaseView filter.
How to deal with changing capacities (flexibly assigning workers from one to the other)? [min 52:30]
This case mostly happens in the area of manual work, e.g. you have one team that is overloaded and you would like to support them for a certain time by a person from another team. As Martin pointed out, it is possible to do this, but since Business Central does not allow one machine center in two work centers, the whole process is a bit tricky and requires quite a lot of manual work (and again he promised that this topic is also on our roadmap for next year):



Further information