Scheduling, whether production, projects, or services, is in no way a trivial task. Many small and medium-sized companies, therefore, rely on an enterprise resource planning (ERP) system like Microsoft Dynamics 365 Business Central to help them better manage their business. And, of course, the ERP provides valuable assistance for running the business in an integrated way. To do so, it provides data and extracts and presents information in a meaningful manner.
But, many Dynamics 365 Business Central users have already noticed that in some cases, this is not enough. When it comes to critical business processes such as scheduling, the issue is: data is somewhat hidden in and spread across pages, tables, and cards. Wouldn't it be much easier and more convenient then, let alone much less error-prone, to see all needed data in a nice and clear-cut overview?
See in this blog post which benefits digital planning boards hold ready for users of Microsoft Dynamics 365 Business Central.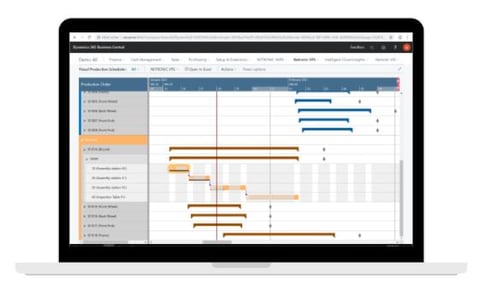 "A picture is worth a thousand words", as the saying goes.
And this is certainly also true for planning and scheduling processes. Graphical planning boards provide proven and valuable support when scheduling, planning, and controlling orders, tasks, and resources are concerned. However, Microsoft's ERP system Dynamics 365 Business Central doesn't offer any visual scheduling support.
Hence, users of the manufacturing, the jobs, and the resource planning module fully lack the visual model of the business data which is relevant to them to achieve their goals. They need to maneuver through tables, cards, and pages leading to situations in which they do not see the forest for all the trees.
Within the standard Business Central system, the users of the mentioned modules cannot easily understand the consequences of potential decisions, and they do not get visual alerts that help them focus on the relevant data. Here is where digital planning boards come into play as they help users of Microsoft Dynamics 365 Business Central close the functional gap.
Benefit #1- Error reduction = stable & reliable data

A planning board that is integrated into the ERP system gathers and maintains all data from and in the said system so that transmission errors are avoided.
Your planning and scheduling thus is based on reliable information and is less prone to errors.
This means that you never have to worry about all those nasty errors that can happen when you move data from your ERP to another solution that you use for scheduling (may it be Excel, a whiteboard, or another software).
Benefit #2 - Clear overview = efficient capacity usage

The visualization of your schedule ensures that you have a clear-cut overview of orders, projects, resources, and capacities at all times.
The transparency thus gained provides the planner with more control of the planning process:
bottlenecks can be easily identified and avoided
throughput increases thanks to better resource usage
keeping of delivery dates improves
Benefit #3 - Reliable data = fast & safe decision making

The reliable data and the streamlined planning process consequently lead to a solid basis for better and faster decisions. You identify resource shortages faster. You have instant insights into your deliveries.
Thanks to drag & drop scheduling you can turn these insights into rapid scheduling actions.
Benefit #4 - Keeping delivery times = high customer
satisfaction
The transparency you gain with a visual planning board also pays off with regard to customer satisfaction. Thanks to a much more realistic schedule and the directly recognizable overview of capacities and workload, the keeping of delivery time commitments comprehensively improves.
Benefit #5 - Stable schedule = happy employees

Last but not least, a transparent planning process also affects your employees: they are better informed about the status of each order/project and about when and how long they will have to work where.
And, of course, a stable plan leads to stress reduction because there will be less or even no short-time changes.
Learn more about visual planning boards for Dynamics 365 BC
See how all the above benefits have been achieved by a digital visual planning board in practice and read our customer success stories.
Read our complimentary Ebook "Introduction to Visual Scheduling for Microsoft Dynamics 365 BC".