This post is a guest blog post provided by Michael Bradley, print industry specialist of our partner PrintVis from Denmark.
Last June PrintVis had the pleasure of participating in NETRONIC's global online event for Business Central manufacturing applications, to showcase our solution and discuss the value (for Microsoft Partners) of pursuing the print industry vertical. Today, let's revisit some of that discussion.
Print Is Everywhere
Everywhere you look you see products of the print industry: Signs and displays, flexible food packaging, folding cartons, vehicle wraps, books, and banners – from the logo on your letterhead to the label on your lager, it's been printed, and most every print job requires its own unique production.
Even with the advent of the digital and the subsequent decline of old standards like the phone book or the newspaper, print remains ubiquitous. The print industry is a massive, discrete-manufacturing vertical, with tens of thousands of companies around the world who share common needs from their technology provider. They want specialized expertise in an end-to-end ERP solution.
The Modern Requirements of a Venerable Industry
Post-it notes and spreadsheets no longer cut it. To run a successful print business, getting centralized control over your data – your daily income and outgo, your time and materials consumption, and, perhaps most importantly, your internal and external communications – is imperative. You need to be able to know when a production run is efficient and profitable, and when it's not you need to be able to analyze why. The combined solution of PrintVis and Microsoft Dynamics 365 Business Central puts this critical power at your fingertips.
PrintVis is the Microsoft-certified MIS solution for the print industry vertical, based on their world-proven ERP platform Business Central (formerly known as NAV). For 25 years PrintVis has fulfilled the most basic and advanced needs for all tasks and processes in the administration and production of prepress, press, and post-press.
PrintVis lets you respond to growth and decline in this highly dynamic business environment, whether you work in commercial print, flexible or rigid packaging, label, wide format, or any other component of the print industry spectrum.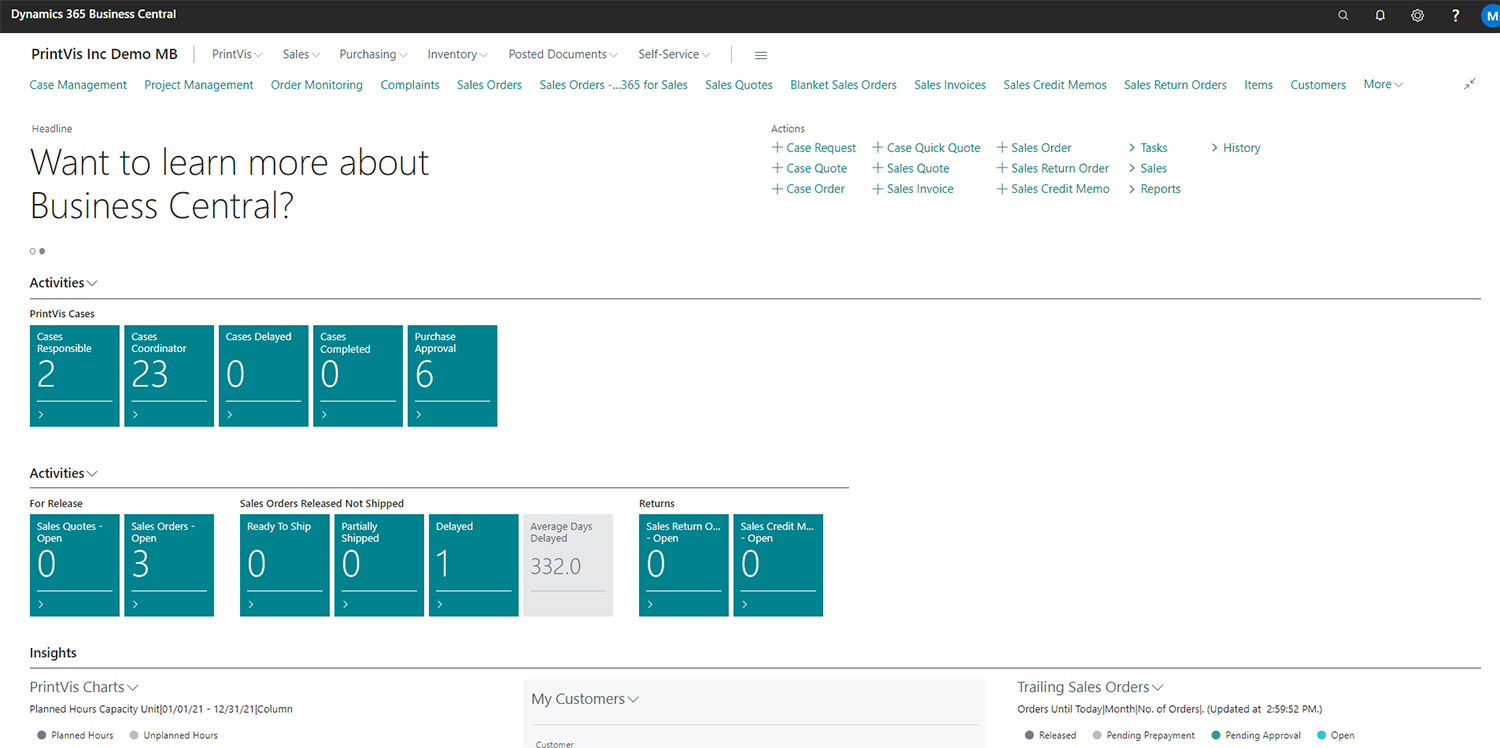 (Above: The PrintVis/Business Central Role Center)
PrintVis gives powerful, print-specific functionality within Business Central, for any type or size of print or graphics company.
Estimating & Quoting

Planning & Scheduling

Production Management

Inventory & Purchasing

Shop Floor Management

Job Costing & Other Reports
The ERP of Business Central covers all the rest, including a full accounting package, supply chain and warehouse management, robust reporting and analysis, and much more.
Speaking of Planning and Scheduling
in early 2020 PrintVis teamed up with NETRONIC Software GmbH to create the PrintVis Planning Board, to provide dynamic visual scheduling to our customers.
Similar in concept and function to a traditional Gantt chart, the PrintVis Planning Board provides a graphical interface for plotting and adjusting a production schedule, with helpful color codes and groupings for your printing presses and other cost centers.
The PrintVis Planning Board works directly within PrintVis, fully utilizing the robust scheduling features of the system, but within a graphical view, that's easily adjusted to account for the fluctuations of the work week.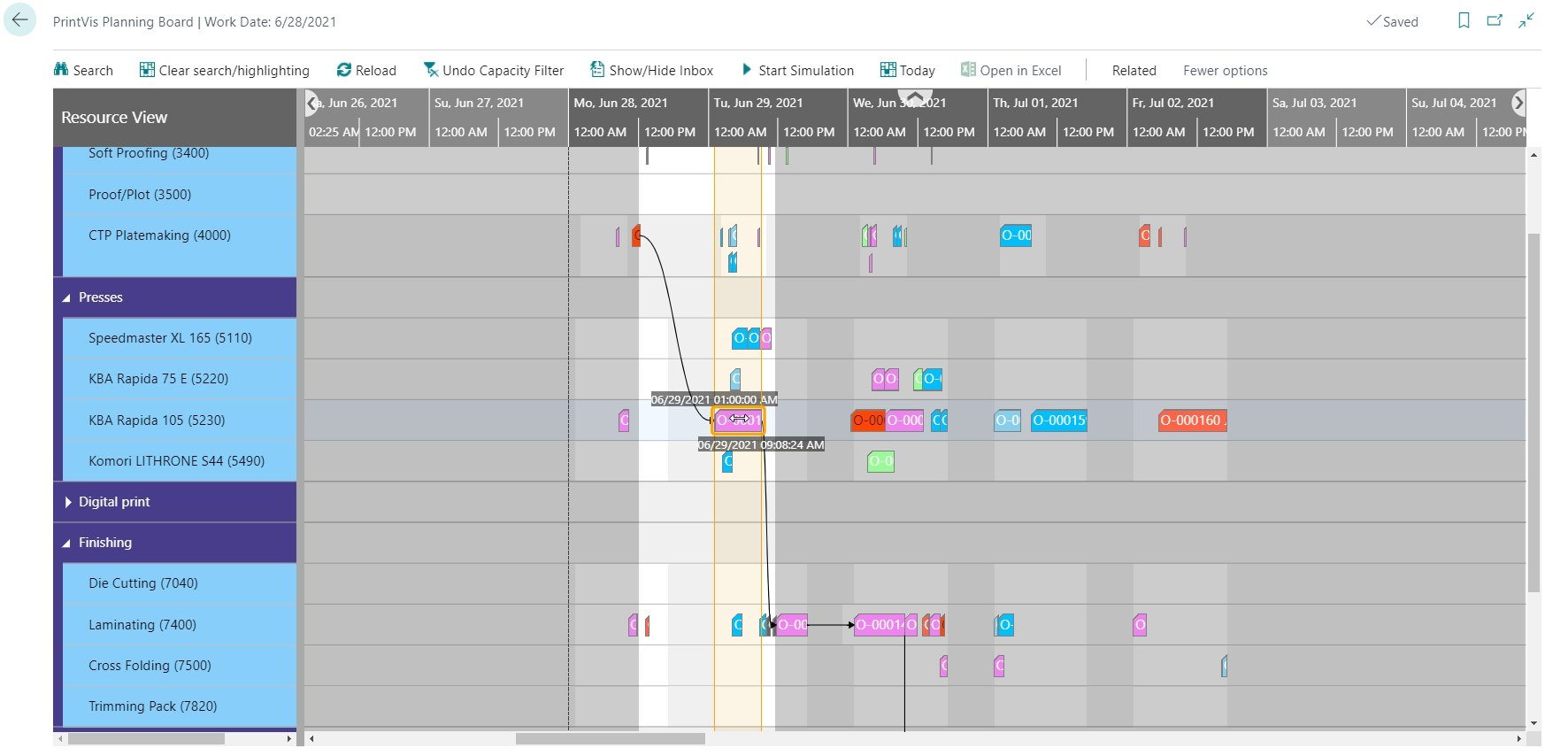 (Above) "Curtains" allow the user to have a clearer picture of the available times that an operation can be moved, based on the start date of the job and the requested delivery date. Darkened areas indicate where planning is restricted.

(Above) Filter on Job Capacities
You can use the filter on the Planning Board to show only the capacities used on a single job.
With your primary cost driver being the number of Users you need, PrintVis gives you extraordinary flexibility. Our business model lets you maintain your investment level in accordance with your current use of the product. Simply put, you don't pay for more than you need.
Start a Free Trial of our Microsoft Certified Print MIS/ERP Software Today
If you're reading this and you've never heard of PrintVis, what better way to try out our complete solution for the print industry than to get your own sandbox and play in it? Now that we can offer you a free trial through Microsoft AppSource you have every reason to get your hands "dirty," get to know the look and feel of the sleek Business Central interface, use some of our handy how-to guides on basics such as creating user roles, quotes, cost centers (your machine park) and more. It's browser-based so all you need is an internet connection to get started. We'll be happy to connect you with a Partner to answer all your questions and show you the steps – either before or after you've downloaded a trial database.
Weekly Public Overview Demo
PrintVis hosts a weekly, live overview demo session, available to the public. We understand that most companies are doing their own research and evaluation of print MIS/ERP software systems, prior to taking the next step of connecting with an implementation partner – and we want to provide the easy option of dropping by and seeing for yourself!
Book a Private Demo
Interested in a demo of PrintVis from one of our certified Partners? Book it here.
Want to learn more about what to look for in an MIS/ERP software?
There are crucial differences when it comes to the needs of the print industry. Go here to download a free PDF quick guide.
Want to get helpful articles like this straight to your inbox? Subscribe today!