You most certainly know our Visual Scheduling Suite for Dynamics NAV (2013 up to 2018). But, of course, we are also "in synch" with the latest developments on the Dynamics 365 Business Central software and are currently in the process of developing our Visual Scheduling Suite 2.0 – based on JavaScript and - fully applicable for Microsoft Dynamics 365 Business Central for cloud and on-premises. So far, we've come up with the Visual Resource Viewer for Dynamics 365 Business Central for the cloud that allows managing your resources, their allocations, free or exceeded capacities and absences in one view.
With this blog post you get a short introduction to our latest "baby" ;-).
The Visual Resource Viewer is essential for all resource planners working with Microsoft Dynamics 365 Business Central. As said above, there's only one view showing resources, their allocations, free or exceeded capacities and absences of the modules Service, Assembly, Jobs.
If you're familiar with our existing Visual Scheduling Suite, you can easily switch, since the handling of the Suite 2.0 has stayed the same by and large. If you're a newbie to visual scheduling, that's not much of a problem either because the software is very easy-to-use and you will quickly find your way around.
So, without much further ado, I'd like to outline for you 7 basic features of our new Visual Resource View.
#1 One view - three tables
While Dynamics 365 Business Central puts the information of the modules Service, Jobs, and Assembly into three different tables, the Visual Resource Scheduler bundles all information of these three tables into one view.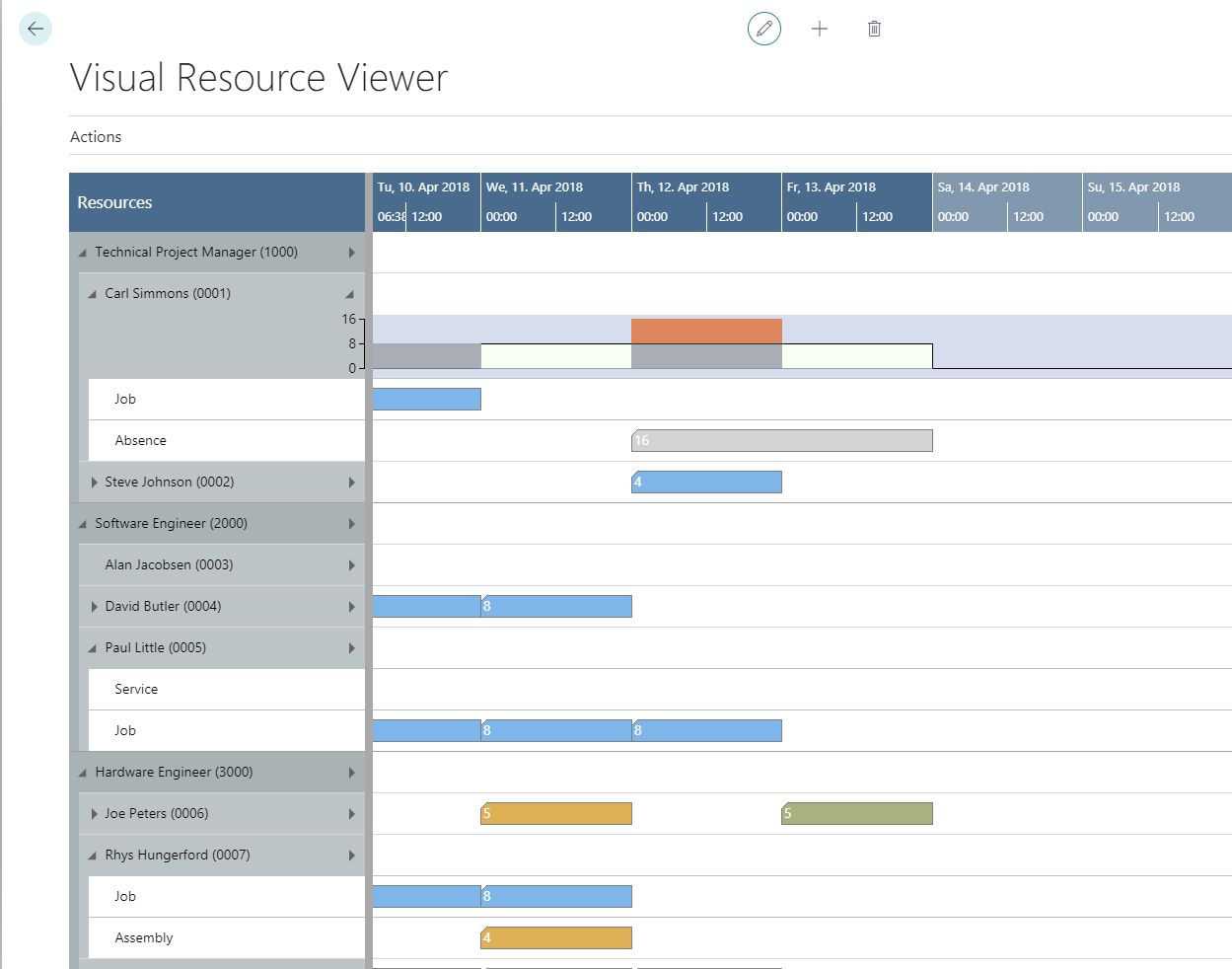 #2 Fully integrated
As known from our "old" Visual Scheduling Suite the VRV also fully integrates with Dynamics 365 Business Central. This means that by double-clicking a Job Planning Line, an Assembly Order Allocation, or a Service Order Allocation, you'll directly switch to the according Dynamics 365 Business Central dialogs where you can navigate and make changes as usual.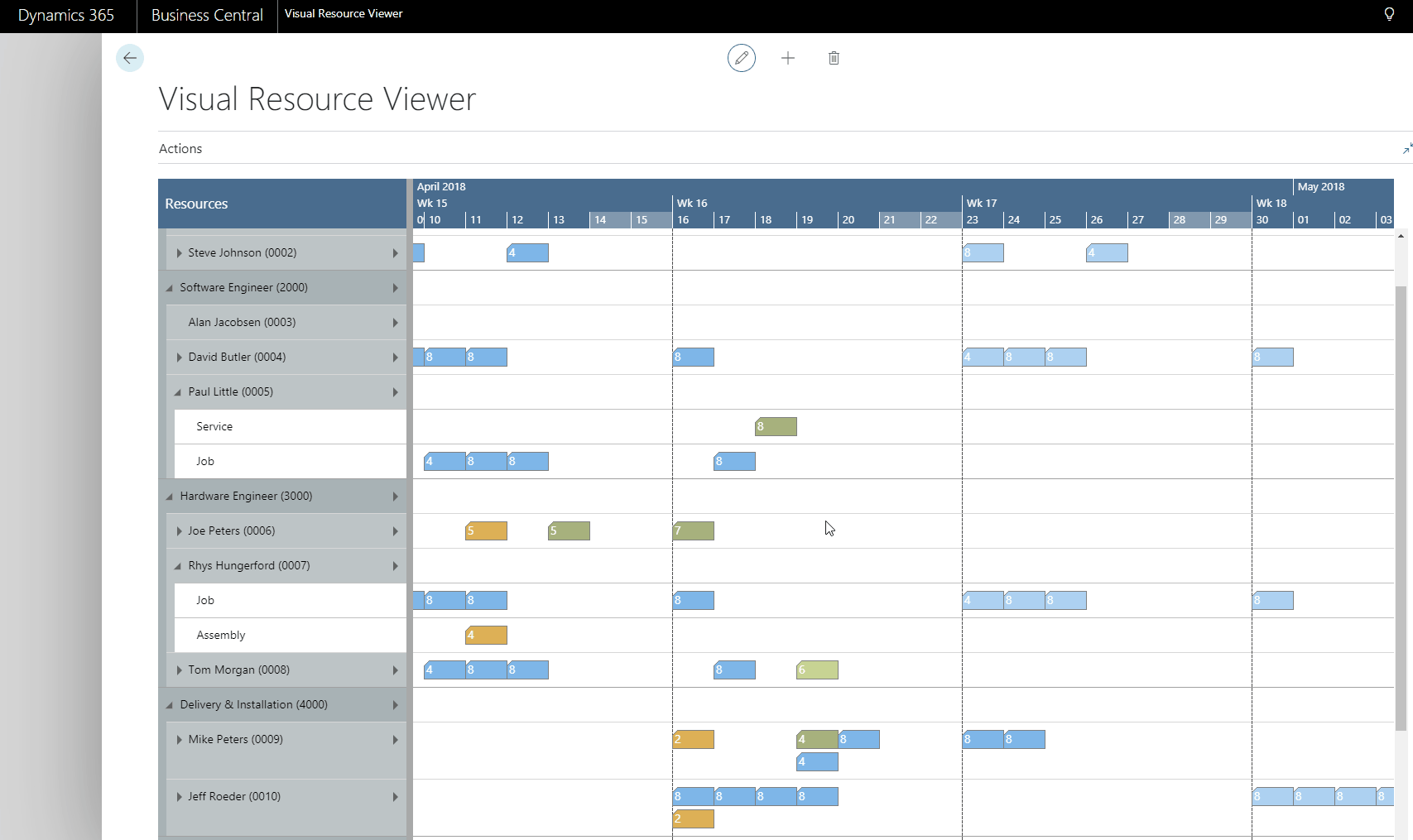 #3 Absence information
The Visual Resource Scheduler shows a resource's absences thus giving the planner full overview of the resource availability: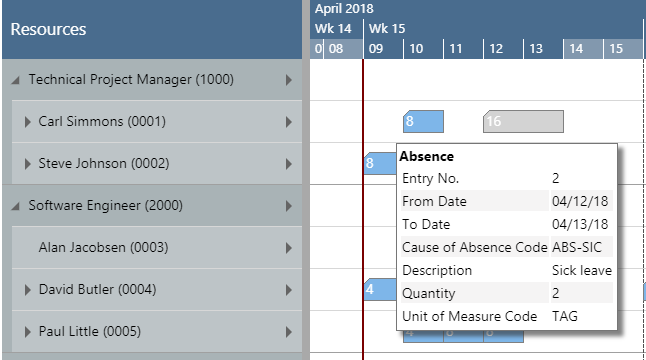 #4 Easy rescheduling
Rescheduling in the VRV is very easy. Just make your changes and reload. Due to being fully integrated in Dynamics 365 Business Central, the changes will be directly shown in the VRV. In the example below, the due date of an Assembly Order was changed by one day: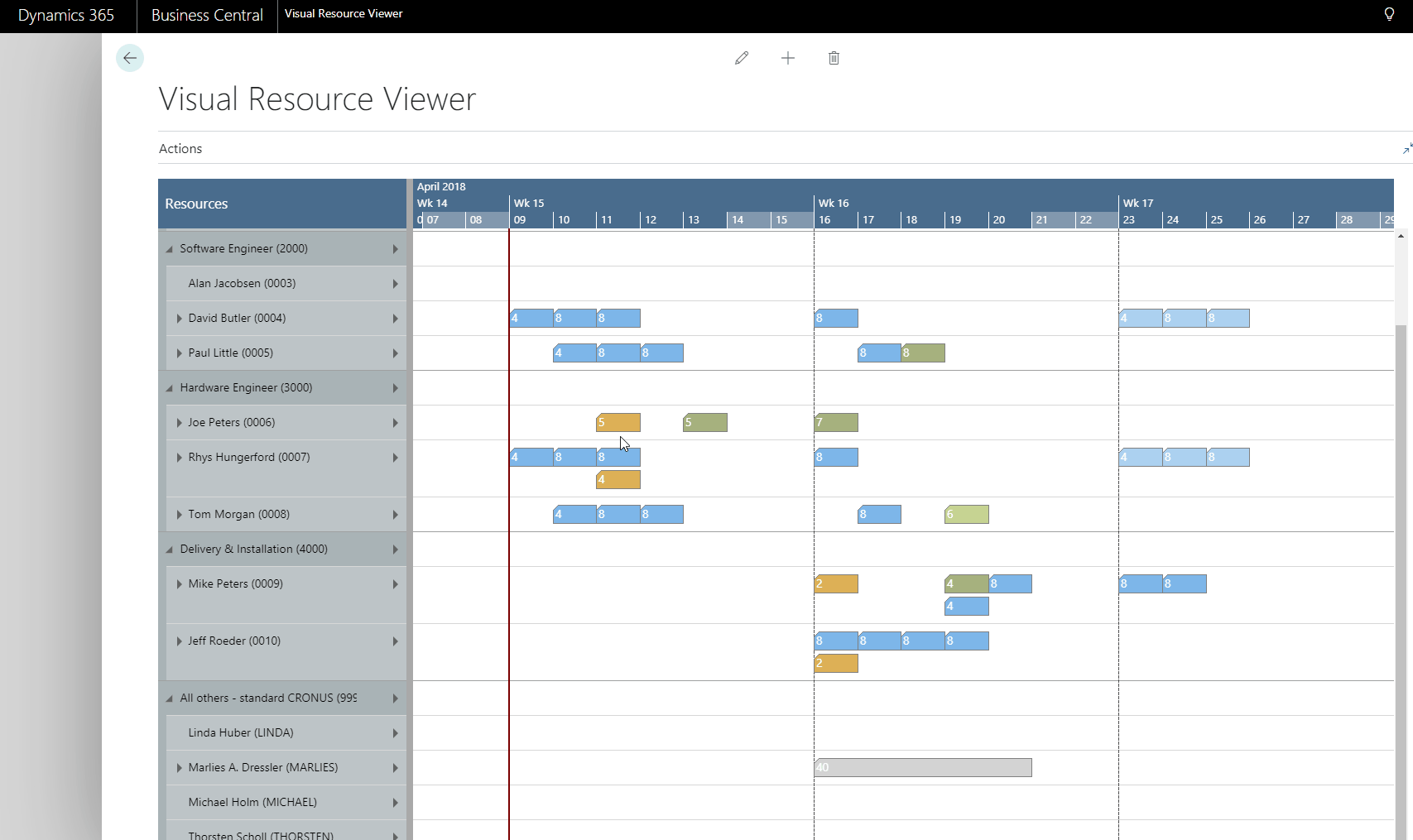 #5 Quickly switch views on data
The VRV allows to view your data from different angles easily and quickly.
Collapsed resources show their capacity load in one row


In expanded resources the resource allocation is shown grouped by jobs, service, assembly, and absence




Show a resource capacity curve to see free and exceeded capacities


Of course, you can combine both views


#6 Refine Dynamics 365 Business Central capacity information
In D365 Business Central a resource's availability can be viewed by day, by week, by month, etc. each view, of course, providing the planner with information fitting his current planning situation.
Example: Capacity calculated per day or per week in Dynamics 365 Business Central
Let's have a look at the resource "Rhys Hungerford" on 11/4/2018 viewed by "Day". The calculation based on daily capacity amounts to -4 hours: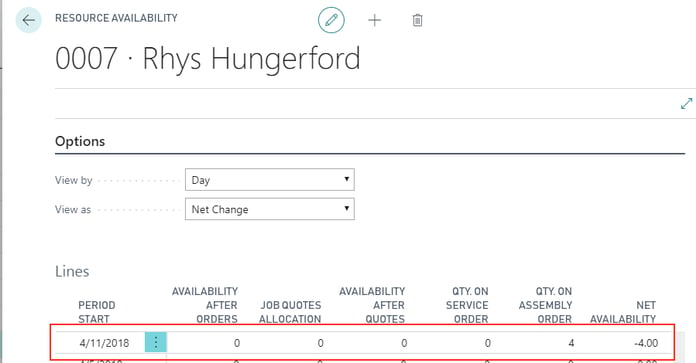 Viewed by "Week", the calculation based on weekly capacity amounts to + 16 hours: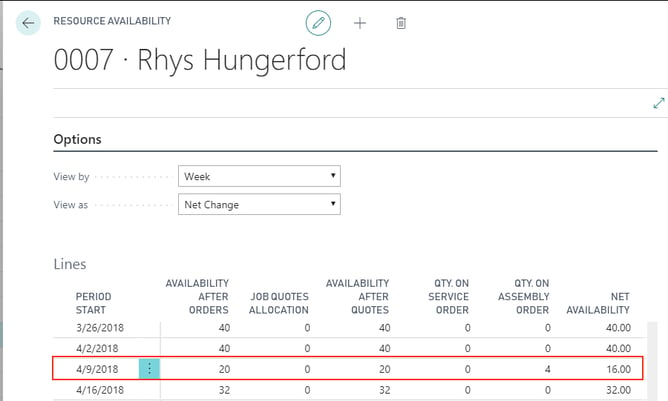 Refined information in the VRV
Naturally, the VRV visualizes the same information at the same time, however, refining them by providing warnings, showing allocation details and still always offering the full overview of the whole plan. .
Let's see now how the VRV visualizes the information shown above.
Daily capacity
Of course, the VRV comes to the same result as D365 BC, calculating the daily capacity from Capacity(=8) - Total Load( = 12) = -4, but this information can be gathered by one mouse action. You need not leave the plan and open a whole lot of cards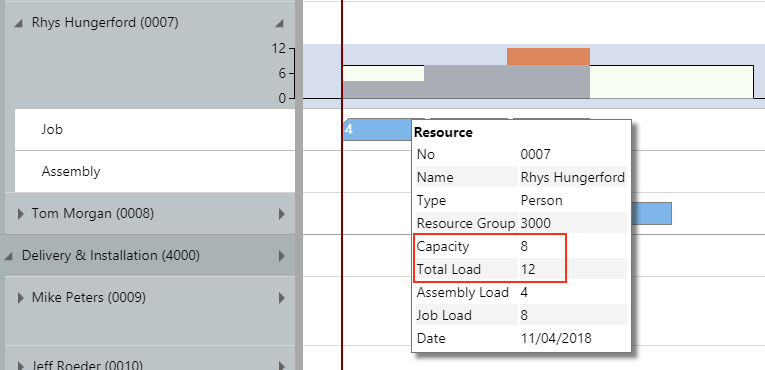 Weekly capacity
The same can be said for the weekly capacity. After having set the histogram's curve aggregation to "Per Week", the capacity is calculated as described above: 40 - 24 = 16 hours.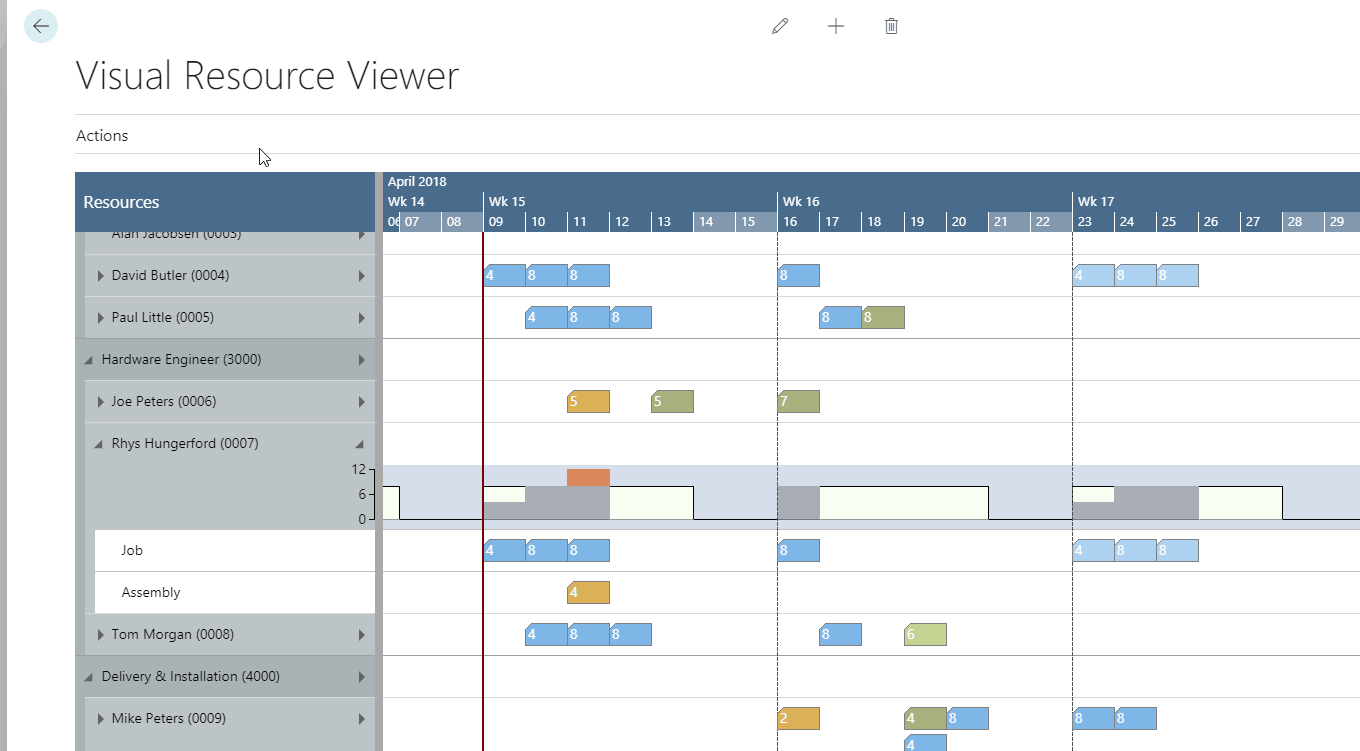 #7 Easy navigation
Use the VRV's comfortable functions for easily navigating your plan:


Timeframe
Set the timeframe for the timescale, either fixed by absolute values or relative to the workday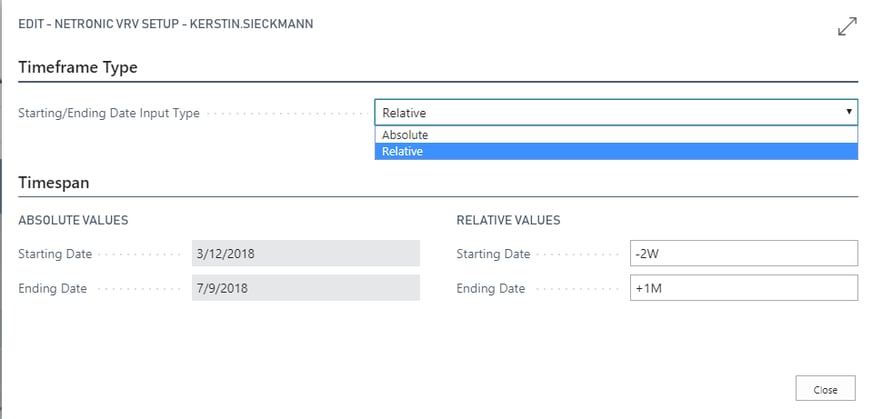 Zooming and scrolling


The VRV offers a drop-down menu for comfortably and quickly zooming and scrolling to the desired parts of your plan.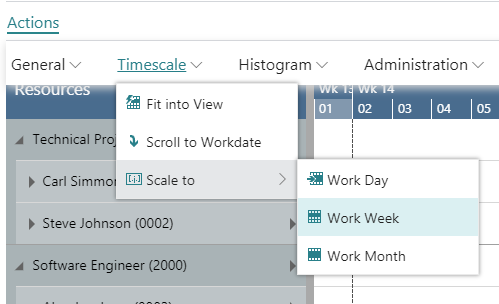 You can:
Zoom directly to Work Day, Work Week, or Work Month by clicking the according icons:
Zoom individually by mousewheel




Scroll to Workdate

Click this item to directly get the workday into sight again


Switch to default timescale

Select "Fit into View" to return to the timescale as defined in the "Setup".
More information
Watch a recorded webinar about the Visual Resource Viewer.
Browse our knowledge base for learning how to use the VRV.
Download our ebook

about visual scheduling for Microsoft Dynamics NAV: