When it comes to production planning, graphical planning tables provide valuable assistance as to visualizing complex contexts and bringing transparency to production planning data. However, developing, designing and definining a graphical planning table often is harder than many people initially expect. This blog post provides you with some functions that you should think of when starting to deveop your visual planning board.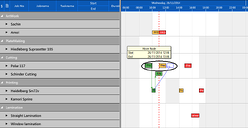 In a series of three blog posts we have already discussed 10 basic features a graphic planning table for use in manufacturing companies needs to offer for conveying meaningful information and support the decision maker and production planner in the best possible way.
For your convenience we have compiled these 10 key features in an ebook illustrated by vivid screenshots that can be downloaded for free.
Checklist: 10 key features for meaningful planning boards
Just as reminder: See below a list of the 10 features that should be provided by an effective planning table serving as useful decision-making tool in production scheduling.
Interactive moving of operations
Drag and drop allows for intuitive, quick and simple planning.

Visual alerts
Use data-driven visualization and send signals to warn the planner.

Histogram for displaying capacities
Visualizing the machine load in a capacity graph ("histogram") is definitely a must have.

Flexible and infinitely variable timescale
Expand or shrink the timescale with the mousewheel and zoom stepless from a long-term overview into short-term planning.

Switching between a machine and an order view
Keep track of the delivery dates in an order view and manage the resource load in a machine view.

Visualization of groups
Summarize information according to contents.

Visualization of dependencies
Recognize and plan interlinked operations or order networks by making links visible.

Individual calendar settings
One-, two- or even multi-shift work? Define individual calendars with different working times for each machine or resource.

Automatic scheduling
Take into account dependencies while rescheduling.

Print functionality
Print versions of planning boards are a valuable means of communication in meetings and presentations.
Want to know more about how a Gantt chart can help simplyfying production scheduling? Our blog post Production Scheduling Challenges: How A Gantt Chart Can Contribute might give you some valuable insights!
In addition to this, feel free to download our complementary Ebook.